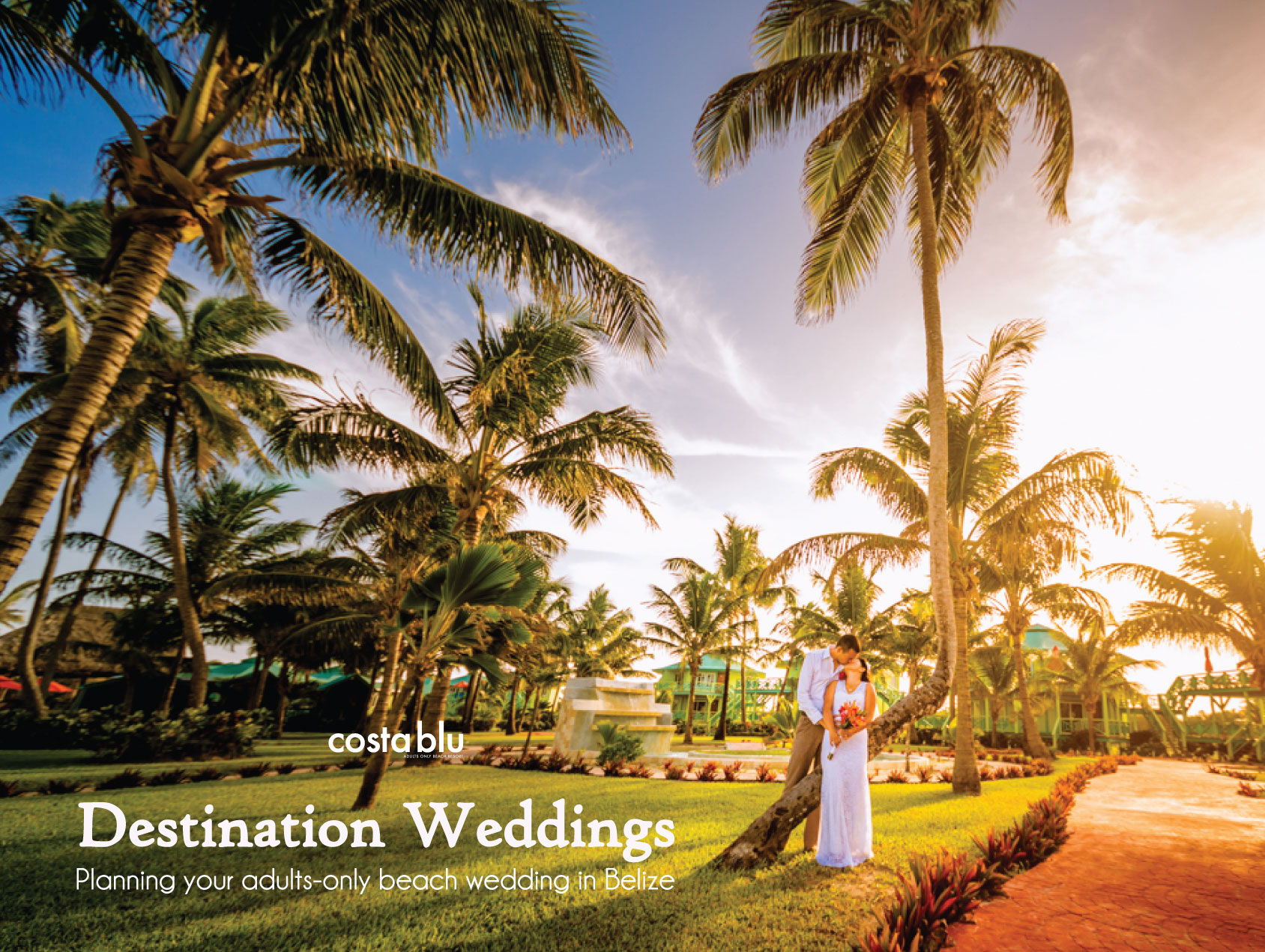 Destination Weddings- Planning Your Adults-Only Beach Wedding in Belize
Your special day is a celebration of all that you are together.  Enjoy the first day of the rest of your lives on the coast of Belize.  Your adults-only destination wedding can be all that you dream it will be. How do you get started in planning your big day when you are making the arrangements long-distance? The first step is to narrow down what features you want for your wedding resort. The next thing to do is secure your date and group booking. From there, you can work directly with your wedding planner to finalize every last detail.
What Resort Features to Look For in Your Wedding Venue
The resort features best for your destination wedding will be different for every couple. Here are some key things to consider:
The resort grounds and complimentary amenities- Your guests will appreciate having lots of things to do leading up to the wedding. At Costa Blu, there is an on-site golf cart and bicycle rental, complimentary SUP boards, and kayaks, beach volleyball and beanbags. The pool is a central hang-out spot with plenty of beach loungers and a swim-up pool bar.
Ceremony and reception venues- The beachfront at Costa Blu is expansive, with space for a seaside ceremony and a large space on the beach for the reception.
Resort capacity- Costa Blu can host weddings of up to 200 guests. This resort has 38 double-occupancy rooms. Weddings larger than 75 guests require a buyout with the remaining guests staying at X'tan Ha Resort, just north up the beach.
Accommodations- At Costa Blu, the One-Bedroom Sea View Suites are perfect for couples or singles. Each suite features a bedroom with a king bed and a private bathroom. The sitting area has a flat-screen TV with cable channels and a kitchenette with microwave, mini-fridge and coffee pot. Wi-Fi lets you stay connected.
Dining and catering- Blu Restaurant & Beach Bar are on-site and open daily. They provide wedding reception catering as well.
Scenery- You want your wedding ceremony and reception to be in a beautiful area, and the natural scenery in Belize is hard to beat. The Caribbean Sea and Belize Barrier Reef can be the backdrop to your wedding.
How Does a Group Booking Work at Costa Blu
The first thing to do is to contact our reservations department to book your room and secure your wedding date. Once your room is booked, contact us with your reservation code and we will send you our wedding contract and credit card form to guarantee your wedding date. Your wedding package is paid in full to guarantee your wedding date. Our reservations team will then prepare a link for you to send your guests for them to book their rooms directly.
Other Things to Know When Planning a Wedding at Costa Blu
There are many services and perks with a destination wedding at Costa Blu.
Only one wedding per day means that you will have the full attention of our wedding team, to ensure that everything goes according to plan.
The knowledgeable local wedding planner has expertise in all things Belize weddings. They will take you through every stage of planning seamlessly so that when the day arrives, all of the details are in place.
Ambergris Caye has a wealth of wedding photographers to choose from, so that you may find one that matches your style and taste.
Spa services are provided by our mobile day spa partner. Treat yourself and your wedding party to some pre-wedding pampering in the comfort of your own suite.
A secret bonus to a destination wedding is that you are perfectly set up for an unforgettable honeymoon.  Choose to stay at your wedding resort or simply commute a short distance down the beach to another resort.  This is also a great way to stretch your travel budget, as you still get a great honeymoon experience without additional international airfare fees. Escape the hassle of travel and enjoy the unbeatable views of Ambergris Caye.