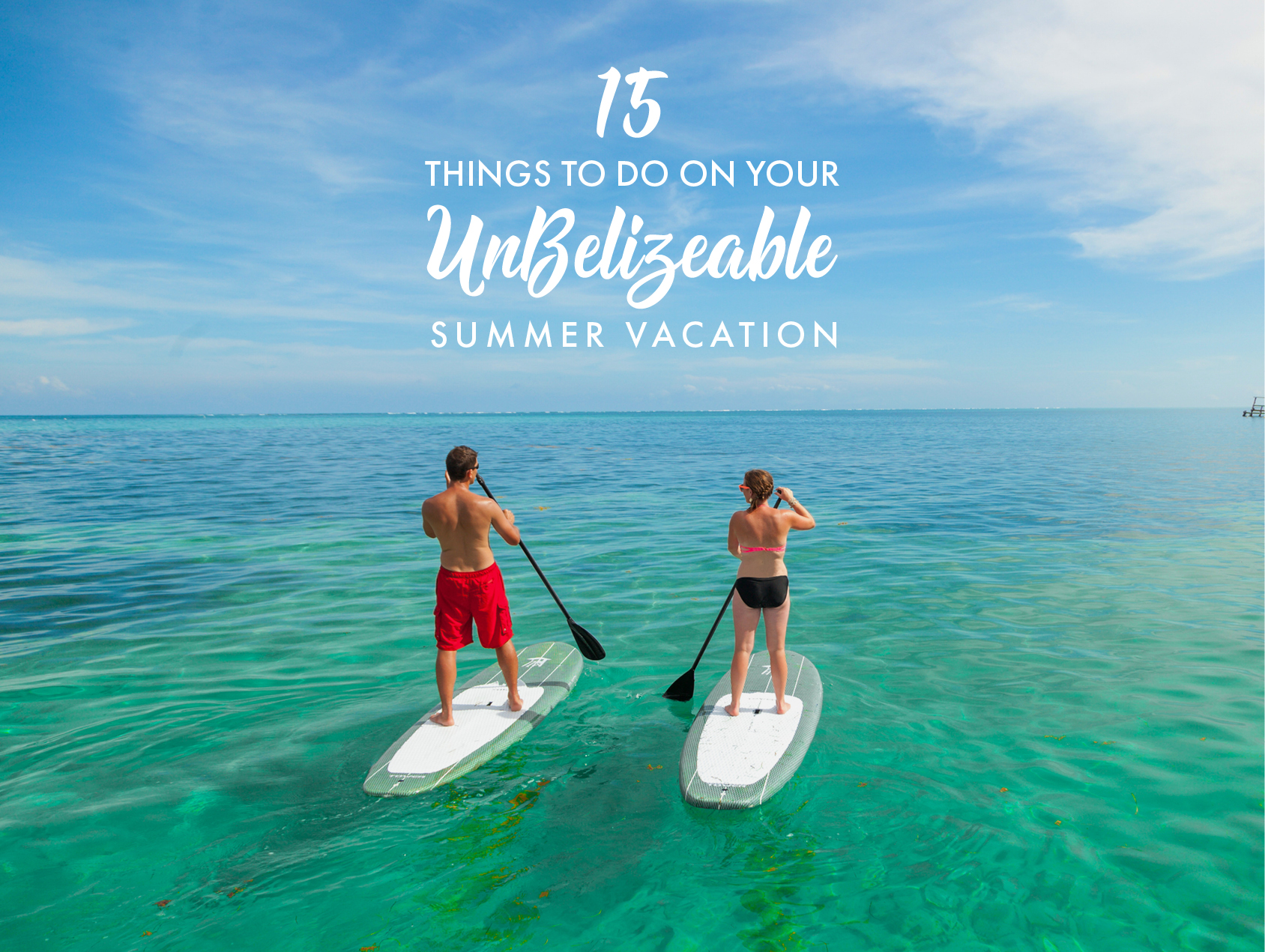 15 Things to Do on Your UnBelizeable Summer Vacation
Belize is the place to be for your summer vacation.  Costa Blu Adults Only Beach Resort has you covered from beach lounging to water sports to cold drinks at the pool bar.  At 6.5 miles north of San Pedro Town on Ambergris Caye, you will be well-placed to enjoy the calm and relaxing vibes at Costa Blu.  Read on for our top 15 things to do on your summer vacation with us in Belize.
SUP board in the Caribbean Blues. Forget all about your work-a-day life and immerse yourself in the tropical waters. Bonus points for squeezing some exercise in while you have fun.  SUP boards are complimentary for guests of Costa Blu.
Pool lounging- The highlight of Costa Blu is the pool with a large deck and heated swim-up pool bar. The views are unbeatable, and the tropical colors will ease any lingering stress.
Bike on the beach. Daily rentals of beach cruiser bicycles (with a roomy basket for your beach essentials) are available at the front desk.  Explore the northern part of the island and check out the variety of beach bars and restaurants within a mile or two of the resort.
Bean bags are always a hit and give a little extra variety to your day on the beach. A friendly competition between friends old and new with a rousing game out on the sand is a great way to relax and unwind.
Beach umbrella for two. Costa Blu has a spacious wide sandy beach with a low seawall into the water.  There are a number of beach loungers and umbrellas along the coast with stairs leading into the water.  Tote your beach essentials to your favorite spot and camp out for the morning, or even most of the day.  You're on vacation!
Beach Volleyball. Gather a few fellow travelers and rouse up a game with the Caribbean Sea as your backdrop.  Cool off from the sand and the sun quickly with a cold drink from Blu Beach Bar or a quick swim.
Massage and spa. Treat yourself to a spa treatment from our mobile day spa.  Choose from a variety of massages, tropical spa treatments and even a chocolate facial.  Treatments can be done at the beach spa palapa, or in the privacy of your suite or verandah.
Explore San Pedro Town. Take a trip into San Pedro for a day of eating, drinking, shopping, and people-watching.  A public water taxi makes scheduled daily runs up and down the coast (check with the front desk for the current time table, the trip to town takes about 15 min) or rent a golf cart for a 40-minute leisurely drive south.
Mexico Rocks snorkeling. Just offshore from the resort is the popular snorkeling site of Mexico Rocks.  It is the newest marine protected area and boasts some of the largest boulder coral formations in Belize.  Our tour partner, Tuff E Nuff Tours, can schedule your snorkel trip right from our dock.
Golf cart to Secret Beach. On the other side of the island is the not-so-secret, Secret Beach.  Being on the lee side of the island, Secret Beach almost always has calm and clear waters, has a sandy bottom and a grouping of lively beach bars and restaurants.  It is about a 30-minute drive via a golf cart.
Romantic dinner on the beach. Couples can add a little romance to their trip by planning a romantic private dinner on the beach with Blu Restaurant.  Celebrate an anniversary or even pop the big question while you dine under the stars.
Blue Hole flyover tour. Belize's Great Blue Hole is located on Lighthouse Reef offshore of Belize and is a stunning sight to see.  Book your flight with Maya Island Air for an unforgettable afternoon.
Mainland tour of your choice. Plan a day on the mainland of Belize with Tuff E Nuff Tours and get your adventure on.  From ziplining through the jungle canopy, cave tubing through limestone caves, exploring ancient Maya sites or getting up close and personal with the local fauna at the Belize Zoo, you are sure to make memories that will last a lifetime.
Kayak the coast and enjoy the water while you search for stingrays, dolphins and even sea turtles. Make sure to apply your sunscreen first!  Kayaks are complimentary for the use of our guests.
Sleep in! With no tiny early risers along and no work alarm, you are free to get all the rest you wish.  Or on the flip side, wake up early and catch the sunrise over the reef, knowing you can take a nap in the hammock later.
There you have it!  Our top 15 tips for squeezing out the most fun, relaxation, and adventure on your summer vacation- you really can have it all in Belize.  Costa Blu Adults Only Beach Resort is ready and waiting to host your next trip.