Many of our staff are working diligently behind the scenes to ensure the best possible service for our guests. Without them, we would certainly not be able to do what we do, and we are thrilled with all of them! Each month, we regularly celebrate employee recognition and would like to share some of these lovely smiling faces with you. Some you may recognize and some not. All are essential to our work team.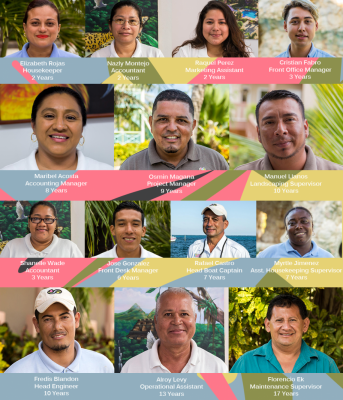 Costa Blu joined the small number of resorts in Belize that cater to adults only. We are thrilled to offer a tranquil and inviting setting where you can just be. Grab a cocktail from the swim-up pool bar, get lost in a novel while swinging in a hammock under the coconuts or get your adventure on with one of Tuff E Nuff Tours many marine and mainland excursions. With an expansive beachfront, protected by a low seawall, there is more than enough space to find a quiet corner all your own. There is also ample room for an extravagant wedding reception on the sand. Whether you're planning a girl's getaway or looking for that perfect romantic spot to pop the big question, Costa Blu is a great choice on northern Ambergris Caye.
Our luxury villa rentals just gained another shining star with the addition of Caesy as Property Manager. She is always smiling and willing to assist our guests with whatever is needed. We are proud to watch her upward movement in the company. Look forward to excellent service during your next stay at Belizean Cove Estates!
The swimming pool is certainly at the heart of any stay at Belizean Shores Resort. Guests can now enjoy the scenic additions of wooden pergolas and luxurious loungers. Make sure you stop by the Blue Hole Pool Bar for a refreshment!

In addition to the Employees of the Month that we mentioned up top, there were three standout staff members that were awarded grand recognitions from Coco Beach Resort. Ms. Myrtle even went on to receive the Employee of the Year Award! A big congratulation and thanks to her and her team for their great work.

We had to save the best for last. Just in time for the winter holidays, the new and improved Boox Balaam Beach Bar was completed! The spacious bar is connected to the dock and offers incredible views of the sea and reef, make sure to watch for friendly stingrays floating on by. What will you toast to in 2018?
We look forward to another great year, and as always, will continue to provide excellence in all areas. Look for exciting updates in the coming months. We wish you all the best for the New Year.