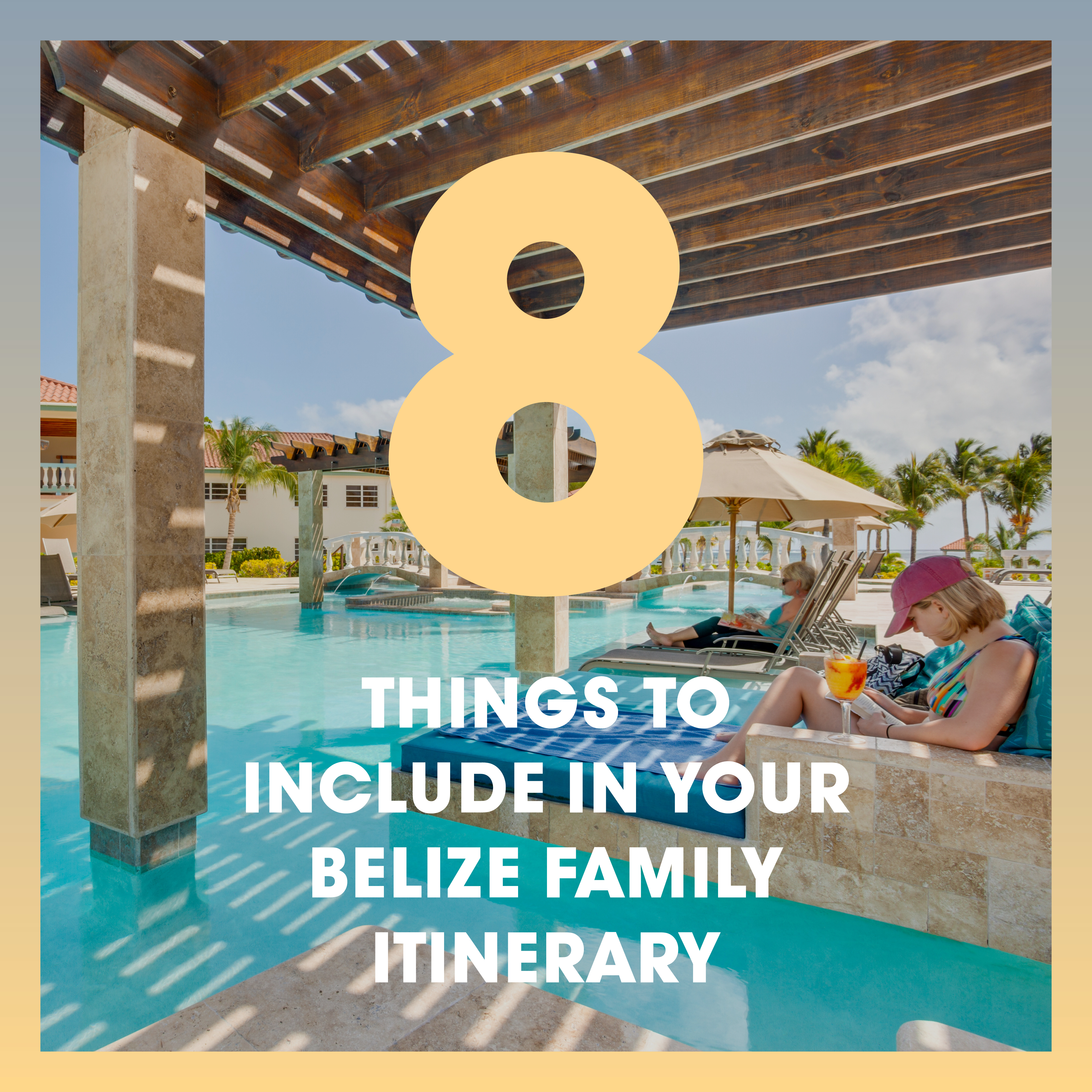 8 Things to Include in Your Belize Family Itinerary
Belize is the ultimate destination for a family vacation. Ease of travel from North America, English speaking, Warm all year long, endless adventure and cultural activities-these are just some of the many reasons to plan your next trip to Belize. Family travel can bring out the best, and sometimes the worst, in us. In an effort to set expectations and take away some of the unknown, consider making a loose Belize family itinerary. Here are 8 traveler-tested sure hits for your next Belize family vacation.
#1. Snorkeling around Ambergris Caye
One of the first images that come to mind when picturing a Belize vacation is floating in the blues of the Caribbean, enjoying the barrier reef and all the marine life swimming around you. The world-famous Belize Barrier Reef is just offshore from San Pedro and has many marine protected areas to ensure that it continues to be there for future generations. Don't miss a snorkeling trip to Hol Chan Marine Reserve, south of Ambergris Caye. Plan a half-day tour that includes all the gear you need, a knowledgeable local guide, and boat transportation to the snorkeling site. For more on snorkeling tours, visit our Activities page, here.
#2. Golf Cart – Local transportation in Ambergris Caye
Travel in island style and enjoy the novelty of driving a golf cart everywhere you go. Having your own wheels while on vacation gives you the flexibility to pick up and go whenever you wish and explore the island. Securing some of the logistics before you arrive gives you one less logistic to take care of once you are officially on vacation. Golf carts are considered motor vehicles and follow the same traffic laws as other cars; you must have and carry with you a valid driver's license. Rentals are available onsite and come in 4-seater or 6-seater models to fit the size of your family.
#3. Secret Beach – Swimming spot in North, Ambergris Caye
A fantastic destination to drive your golf cart to is Secret Beach, on the lee side of the island. This sandy-bottomed beach is just about perfection, and due to its location, the water is almost always clear and calm. There are a few restaurants and beach bars, water toys and sun loungers to enjoy. This is a popular destination on the island; consider beating the crowds by going earlier in the day or on weekdays. The drive takes about 40 minutes from Belizean Shores Resort and the gravel road is unlit at night, plan your return journey before sunset.
#4. Island Eats for your Family
Dining options abound on Ambergris Caye!  Explore the culinary landscape of tropical eats by trying some of the many restaurants in and around San Pedro.  Many establishments offer kids menus and use seasonal ingredients to bring you the freshest meals that the island offers, there is sure to be something for everyone.  You'll find seafood, Italian, fine dining, relaxed beachside bistros, and bold Caribbean flavors.  For our dining page, click here, and for more on the suggested restaurants and menus, click here.
#5. Chocolate Classes in Downtown San Pedro
Everyone's ears perk up when they hear, "chocolate."  Sneak in some delicious education into your next Belize vacation by signing up the fam for a local chocolate class at The Belize Chocolate Company in downtown San Pedro.  Classes are about 30 minutes and include an informational video, chocolate tasting and a discussion on all things Belize chocolate.  Visit their website, here, to sign up today.  Currently, classes are held on weekdays at 10:30am and the shop is conveniently located right next door to the Sandy Point Resorts dock, on Barrier Reef Drive.
#6. Souvenir Shopping in San Pedro Town
Whether just window shopping or searching for that special memento to remember your Belize family vacation by, there are plenty of shops to check out. There are many gift shops and boutiques on the main road in downtown San Pedro Town, on Barrier Reef Drive. You can easily find things such as t-shirts, coffee cups, and holiday ornaments, even a spare swimsuit or beach gear. Swing around to back street for the local craft stalls where you can find handcrafted items such as wood and slate carvings, woven tapestries, hammocks, and beaded jewelry.
#7. Belize Zoo – Family Mainland Tour in Belize
Spend a day on the mainland meeting some of Belize's most famous residents: the jaguar, spider monkey, tapir, toucan and more!  Coined, "the best little zoo in the world," it is just that. All of the animals on exhibit are native to Belize and have been rescued, orphaned or born at the zoo.  The zoo is great for all ages and the paved pathways are accessible to wheelchairs and strollers, making it a great family destination.  Check out our activity page, here, and read all about how you can combine a trip to the zoo with a step back in time at a Mayan monument, here.
#8. On-site Amenities at Your Resort
Sometimes you just want to relax by the pool, read a book in a hammock or play in the sea.  Check what amenities your resort offers right on site and you might be pleasantly surprised.  Kayaks for tooling along the coast, SUP boards for a great workout, bicycles for exploring the beach.  Belizean Shores Resort also offers a tennis court, basketball court, giant chess board, and ping pong table to keep everyone happily entertained.  For more on our activities, click here.