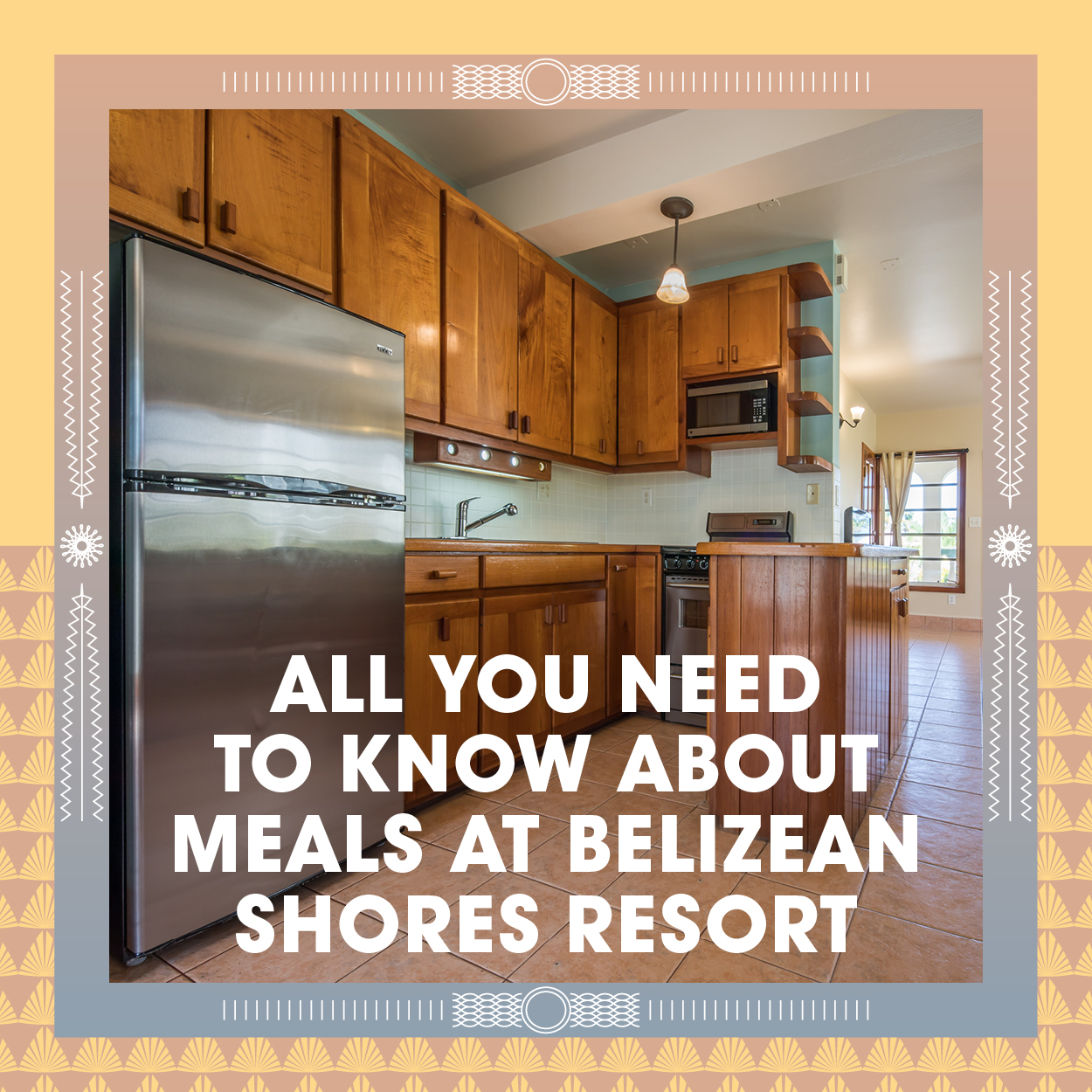 — by
All You Need to Know About Meals at Belizean Shores Resort
Family travel doesn't automatically mean that the daily responsibilities of feeding your crew evaporate once you leave home.  No one wants to be stuck behind a stove or spend precious vacation time grocery shopping.  There are adventures to be had and serious relaxing to prioritize. We have you covered at Belizean Shores Resort!
Please note that as of 31 August 2018 our onsite restaurant, the Island Tavern, has closed.  This is to make room for an exciting new dining experience across the road, coming soon!  Stay tuned for more on that announcement in the coming months.  In the meantime, we are pleased to provide our guests with pool service and room service menus.  The all-day menu is available from 11am-9pm and the pizza menu is served from 3-9pm.  To view the menus, click here.
Each of our suites includes a kitchen with refrigerator, stove and basic cooking utensils.  It can be nice to have some of the basics to prepare simple meals or snacks.  Especially for children that can wake up ravenous.  To streamline this, consider using a provisioning service offered by one of the local grocery stores to stock your suite ahead of your arrival.  This is a great way to stretch your vacation dollar so that you are not dining out for every meal if you choose not to.  Belize Grocery and Mata Grande Grocery both offer provisioning services.  Contact them directly before you leave home and arrive at your suite with snacks and food items already stocked.
And of course, we can't talk about dining options without bringing up some of the fantastic restaurants to be found throughout San Pedro Town and Ambergris Caye.  There are far too many to list them all, but these are some of the favorites of our guests.  Heading south towards San Pedro: Aji Tapas, Rain Restaurant (rooftop views!), The Truck Stop (food truck style, yard games, swimming pool), Croc's Bar & Grill (great for sunset viewing) and The Dive Bar & Restaurant.  In town you can find El Fogon, Elvi's Kitchen (local favorite!), Waraguma and Blue Water Grill (sushi on Tuesday and Thursday evenings).  If you're looking for beachside dining in town, check out Caliente, Estel's Dine By the Sea (fantastic breakfasts), Lily's Treasure and Fido's Courtyard (they often have live music in the evenings).  For a more complete list of dining options, click here.  **Please make sure to check with our front desk team as some restaurants do close during September or October for holidays or renovation.
To try something new without having to rent a golf cart or take a water taxi into town, you can walk south along the beach down to Coco Beach Resort, part of the Sandy Point Resorts family.  Guests of Belizean Shores Resort enjoy signing privileges at Cocoblanca Restaurant and Coco Café.  The resort amenities, including pool use, are reserved for registered guests of Coco Beach Resort, but you can enjoy dine-in or take-out meals and beverages.
Variety is the spice of life!  Mix up your meals while on vacation and get a chance to explore, try new things and just relax.  Island life in Belize offers lots of new and exotic flavors to try as well.  Check the local produce stalls to discover a new fruit to snack on.  Belizean Shores Resort provides a great home-base for your getaway.  The front desk staff has great suggestions for meals as well.  Happy dining!