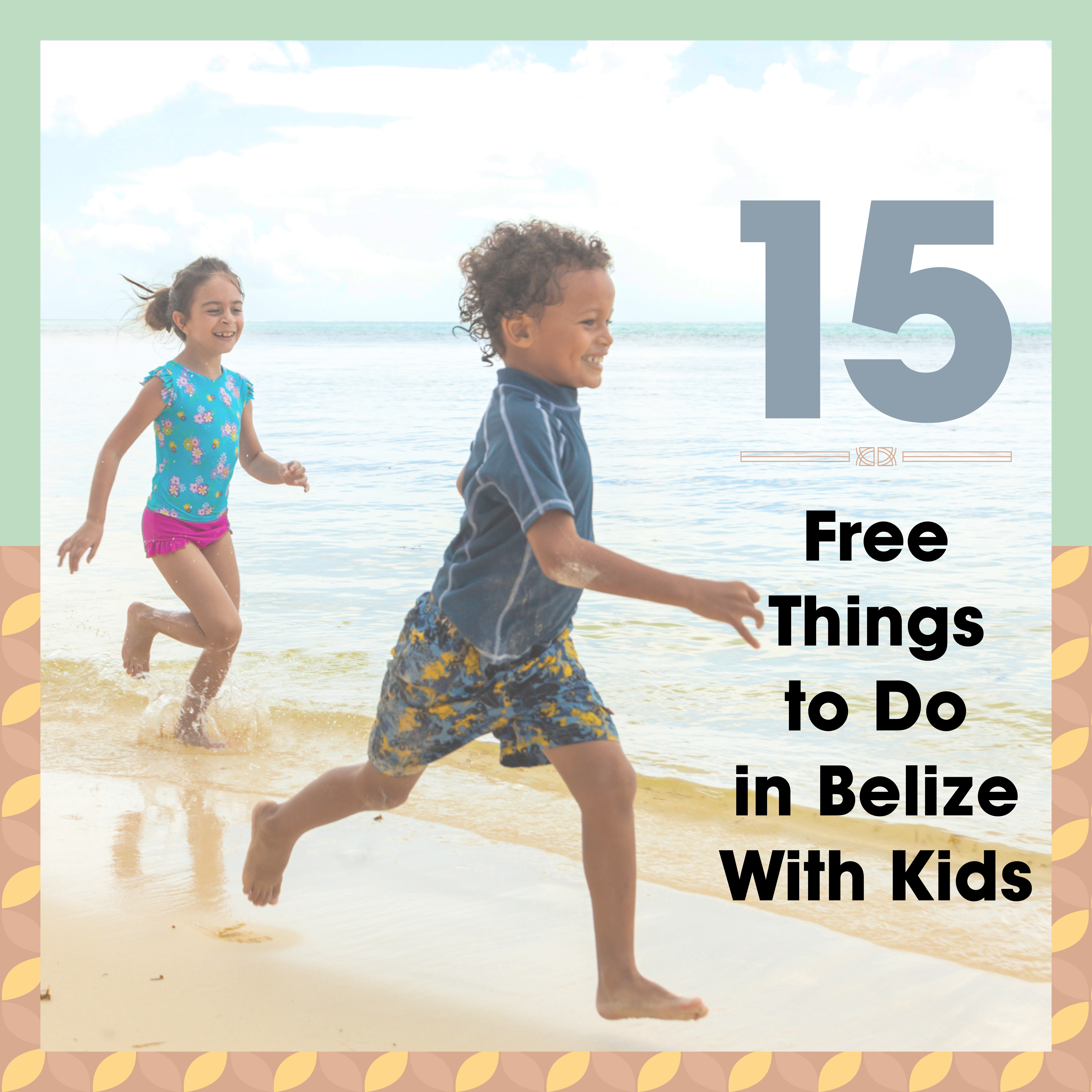 15 Free Things to Do in Belize with Kids
A family vacation is all about spending time together and having new adventures.  But you don't need to break the bank to do it!  There are lots of free things to do in Belize, especially with kids.  Plan ahead as a family and decide on what excursions are the most important, maybe it's snorkeling on the barrier reef or stepping back in time at a Mayan monument.  You can stretch your vacation budget by including lots of other free activities that you can enjoy together as a family.  Many of these are beach-themed, though most can be adapted no matter where you are staying.  Try some or all of these ideas on your next Belize vacation.
#1. Swimming
If plain old regular splashing and swimming gets deemed the terrible "B" word (boring!) try a game of Marco Polo, have the kids choreograph their own synchronized swimming routine or learn how to do a handstand underwater.
#2. Kayak along the coast
Many resorts provide complimentary kayaks for their guests to use.  Make sure everyone has a lifejacket and enjoy some time exploring the shoreline.  You might even see a dolphin or two swimming near your boat!
#3. SUP Boards
SUP Boards are gaining popularity throughout Belize and are often a complimentary amenity at beach resorts. Even young kids can enjoy sitting or kneeling on an adult's board.  The higher vantage point gives great views of the marine life that is often tooling around the turtle grass flats along the shore.  Watch for stingrays, fish and crabs!
#4. Make new friends with other guests
This comes so naturally to kids, and adults can follow their lead.  The kids will be happy because their games can be expanded and elaborated to include an endless number of players and parents can relax a little more fully, knowing they don't need to be the source of entertainment.
#5. Take advantage of local public playgrounds
Swings, slides and monkey bars are universal and are like magnets to kids.  Go on an adventure and let the children lead the way with their playground Spidey Sense, they are sure to search one out before long.
#6. People watch
This is a favorite pastime and can be done literally anywhere. It's a great way to occupy those moments while you're traveling to your destination, waiting for dinner or just relaxing on your balcony.
#7. Play "I Spy"
Another tried and true game that can be taken anywhere and has gotten countless families through those times during travel where you can't just let the kids run and play. It's also a great way to open up a conversation with kids about what might be different or the same about your vacation destination and where you live.
#8. Look for Spiny-tailed Iguanas
The "Whish Willy Iguanas" that hang out just about everywhere.
These lazy little dinosaurs are endlessly fun to spot and watch them bob their heads at you.  What exactly they are saying, we may never know.  But the kids will have fun guessing!
#9. Take a beach walk
If you have a toddler with you, be plenty prepared for this to end up as a beach swim.  What starts out as a polite distance from the water somehow always ends up with them splashing away happily in the shallows.  With older kids, it's easier to actually cover some distance and enjoy a leisurely stroll.
#10. Sandcastle competition
The simplicity and tactile sensations of playing with sand are something we never really grow out of.  Add in some friendly competition and you might even get the teenagers in on the fun.  Let everyone pick a theme for their creation and let their imaginations run wild.
#11. DIY photoshoot with your phone
The cameras on our phones are capable of taking some amazing photos.  And when the subjects of said photos are your darling children playing on vacation, you might just get a few keepers.  Whether you are snapping candid photos or if you have a kid hamming it up, it's a great way to take the family memories you are making together home with you.
#12. Shell collecting
While Belize's shorelines aren't commonly packed with some of the stunners you might find in the Florida Keys, there are still lots of treasures to find.  Coral pieces are fun to collect and there are lots of very tiny shells, smaller than your fingernail.  There are many hermit crabs walking, especially in the evenings.  Make sure you leave them where you find them!
#13. Make eco-art
Make Eco-Art for others to find, or just for the satisfaction of creating something.
Use found natural materials like stones, leaves, sticks- anything really, and create designs or spell out words.  It's a great group project, something even the littlest can help with.
#14. Bird watching
No binoculars needed (though if you've packed them, you'll certainly see some stunning birds in every color of the rainbow). The many large shorebirds that continuously glide, fish and swim along the coast are a joy to watch at any age.  See who can spot the most Brown Pelicans, Magnificent Frigate Birds or Great Blue Herons.
#15. Search for sea beans
There are many plants that take advantage of the drifting ocean tides to carry their seeds to new territories. The most famous is, of course, the coconut.  But there are many other types, and lots of shapes and sizes wash up on the shores of Belize.  Collect what you can find, and then read more about them here. (Don't tell the kids that they might end up learning something!)
Bonus freebies at Belizean Shores Resort! Additional complimentary onsite amenities for guests include a ping pong table, a life-size chess board, a basketball court, and a tennis court.  A small collection of DVD's, books and board games are available in the lobby as well.