Island Vacations in Belize
Perhaps the first thing to consider is who is going on the trip with you. Gauging the interests of your fellow travelers will help you to narrow down not only accommodations but also the types of excursions you all would most enjoy.  Is this trip just you and your sweetie?  Got kids in tow?  Lots of young-at-hearts looking for a lively time?  Answering the question of who you will be traveling with will get you off to a great start in planning your Belize Vacation.  The next thing to think about is what time of year you'd like to come.  If you are all about meeting other travelers and talking it up over cocktails at the pool bar, you'd do best to come during the peak tourist season from Nov-April.  During the offseason from May-Oct, you can feel as though you have the place to yourselves. 
Sandy Point Resorts- An Award-Winning Collection for your Belize Island Vacation
Sandy Point Resorts is a collection of unique island properties with just the right fit for everyone. Belizean Shores Resort, Coco Beach Resort, and X'tan Ha Resort have something for everyone.  Whether it is a family seeking a value-oriented vacation, a diver looking to experience one of the premier diving spots in the world, a couple planning a romantic getaway, or a traveler who wants nothing more than a luxurious private villa overlooking the Caribbean, Sandy Point Resorts offers the right option for every vacation.
Coco Beach Resort- Laidback Luxury
Located just 3 miles north of San Pedro Town, Coco Beach Resort offers a unique vibe of laidback luxury.  It's the perfect fit for families, honeymooners, and groups.  Arriving at Coco Beach Resort, guests immediately feel relaxed and dive right into the laidback, quiet environment.  Communications and planning with our staff are smooth, there is no need to worry.  The luxury that we speak of is not luxury that you pay for, but rather that you feel.  There is time here for relaxation, for family, for work, and yes, for having that cocktail pool-side.  There is a range of accommodation types to suit every traveler, choose from a Luxury Penthouse to a spacious Casita.
Luxury Seaview Penthouses- Occupancy is 4-6 persons including children.

Two-Bedroom Luxury Seaview Suites- Occupancy is 4-6 persons including children

One-Bedroom Luxury Seaview Suite- Occupancy is up to 2 adults and 1 child

Two-Bedroom Pool View Villas- Occupancy is up to 3 adults and 1 child or 2 adults and 2 children

Luxury Honeymoon Casitas- Occupancy is up to 2 adults and 1 child

Luxury Hotel Rooms- Occupancy is up to 2 adults and 1 child
There are several dining options at Coco Beach Resort, all of which you may charge to your room for your convenience.  Cocoblanca Restaurant is open daily providing an all-day pool and room service menu with a separate fine dining menu available inside the elegant restaurant serving dinner. Coco Cabana Pool Bar with swim-up heated pool is the place to be, especially for happy hour. Coco Café serves breakfast daily during the morning hours, along with specialty coffees, pastries and sundry items available until 5 pm.
You'll feel at home while enjoying the peaceful and beautiful landscapes of Ambergris Caye, Belize. Belizean Shores is just north of Coco Beach Resort at mile 3 North on Ambergris Caye.  Relax in the privacy of your room or explore all the fun of our amenities without worrying about anything but your own delight.  For families and groups looking to make their vacation dollars work for them, Belizean Shores offers that home-away-from-home.  We bring together all aspects of the body, mind, and soul to allow our guests that homey experience.
Belizean Shores Resorts offers suites suited to jovial family life and provide:
A separate master bedroom with king or queen bed

Suites have one bathroom with shower only

A living and dining area

Kitchen

Private balcony or patio
Some suites also include a loft space with a sofa bed or 2 twin beds. Choose from the following suites:
Beach Level Suite - Max Occupancy is 4 Persons including Children

Sea Front Beach Level Suite - Max Occupancy is 4 Persons including Children

Upper-Level Suite - Max Occupancy is 6 Persons including Children

Sea Front Upper-Level Suite - Max Occupancy is 6 Persons including Children
All-day menu options: Available daily from 11am to 9pm, pool and room service.  Made with the freshest ingredients from land and sea in creating your perfect meal.  Great food and fun island drinks you will enjoy!  Serving pizza from 3pm to 9pm.  The Blue Hole Pool Bar is the heart of the resort and with ample and varied seating throughout the pool, you'll never need to hustle to get your favorite spot.  Another great option for dining is the food court across the street.  Several small casual restaurants serve a variety of local cuisine, breakfast and coffee, and seafood.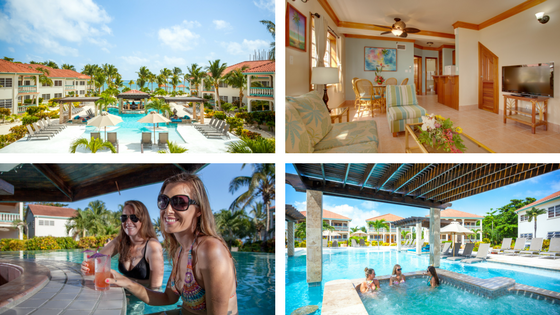 X'tan Ha Resort- Waterfront Paradise
A waterfront paradise resort with a Maya heritage able to immerse our visitors in new and extraordinary colors, flavors and experiences. We take care of every little detail in order to create extraordinary memories for our clients. The resort offers one-bedroom casitas and villas, fully furnished with private veranda or balcony.  Each unit has a kitchenette with a small refrigerator, electric cooktop, microwave, and basic kitchen utensils.
Casita - Max Occupancy is 2 Persons including Children

One-Bedroom Garden View Villa - Max Occupancy is 2 Adults and 2 Children (No Additional Adults allowed)

One-Bedroom Pool View Villa - Max Occupancy is 3 Persons including Children

One-Bedroom Sea Front Villa - Max Occupancy is 3 Persons including Children
Boox Balaam Beach Bar is just steps from the shoreline, offering terrific views of the sea.  It's open daily serving breakfast, lunch, and dinner and features Belizean cuisine with colorful, local flavors.  Boox Balaam Beach Bar is right on our dock, over the water.  It's the place to meet up, relax and enjoy the view, with your favorite tropical libation.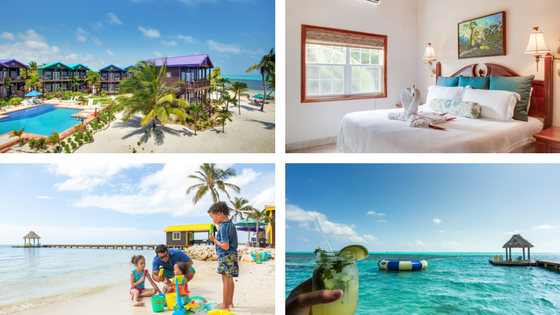 Belizean Cove Estates- Luxury Beachfront Villas
Belizean Cove Estates offers a collection of secluded, luxurious beachfront villas each elegantly decorated with its own unique style and décor located 3 miles north of San Pedro Town. Privacy and spacious luxury are at the forefront, with the comfort and convenience of front desk services during the day. The villas are well suited for large family groups or couples traveling together who are seeking an intimate, secluded and elegant holiday home for extended vacations or special occasions.
All villas feature ceiling fans, air conditioning, WIFI, Cable Television including all major networks and specialty channels including HBO and movie channels, full kitchens, quality linens and towels, gorgeous views and more. Highlights include:
Large Gourmet Kitchen with cooking utensils

Direct access to outdoor pools

Private outdoor patio with furniture

Each villa has 3 bedrooms but can be rented as one or two-bedroom options as well.
Choose from these stunning villas, all with their own unique flair and details:
Villa Solemar- Max occupancy 8 persons

Villa Paraiso- Max occupancy 8 persons

Caribbean Soul Villa- Max occupancy 6 persons

Villa Del Mar- Max occupancy 8 persons

Brushstrokes Villa- Max occupancy 6 persons

Villa Watina- Max occupancy 6 persons
Belizean Cove guests enjoy signing privileges at nearby Coco Café and Cocoblanca Restaurant.  Provision services are available, as well as private chef services.  Additionally, the town of San Pedro features a variety of restaurants offering everything from traditional Belizean to international cuisine.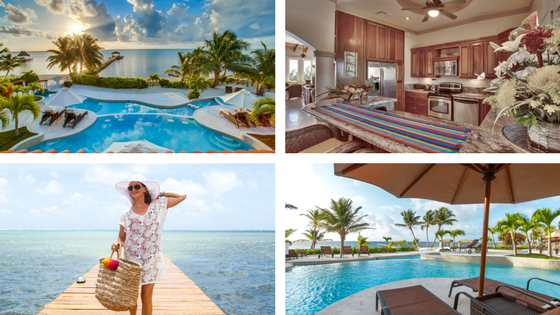 Tips for Travel, Activities, and Excursions in Belize
Choosing your accommodations is one of the biggest decisions you'll need to make.  But what about airfare, local transportation and maps to help you get around once you're here?  We have you covered!  Visit Traveling to Belize for all of that, and more.
Planning activities and excursions needn't be complicated.  Our tour partner, Tuff E Nuff Tours, has a team of friendly, knowledgeable and fun staff ready to get you out there to experience all the adventure that Belize has to offer.  Belize is home to the second-largest Barrier Reef in the World. The reef offers world-class snorkeling, diving, and fishing. A wide variety of water sports are also available. Windsurfing, sea kayaking, sailing, jet-skiing, parasailing, and kiteboarding are among the many to choose from. The mainland of Belize offers a variety of adventurous activities. You can choose from Mayan Ruin exploration, zip-lining, cave tubing, river kayaking, horseback riding and much more. For those looking for relaxation and a little pampering on vacation, a variety of spa services are available via our mobile spa. Our front desk will be happy to help you arrange any of these activities. Or, if you prefer to take the guesswork out, you can plan your tours before you even leave home.  Contact us today to book your excursions.
You are all set to continue on with the planning of your next Belizean island vacation!  For fun, why not learn a few Belize Kriol phrases to get you in the island mood.  We look forward to hosting your getaway!  What type of trip are YOU planning next?