Plan a full day of sailing and exploring with a private catamaran trip.  Our tour partner, Tuff E Nuff Tours, has two catamarans that are perfectly suited for an outing on the Caribbean Sea and Belize's Barrier Reef.  Charter a private tour for up to 30 persons and spend the day relaxing while our team of experts takes care of everything.  Tours depart at 8am from our main dock at Coco Beach Resort.  Choose from a combo snorkel and Caye Caulker trip OR a fishing, snorkeling and beach BBQ trip.  Snorkeling at Hol Chan Marine Reserve is not to be missed. The Caye Caulker trip starts off with world-class snorkeling followed by a few hours on nearby Caye Caulker to explore and have lunch.  Back on board, you'll sail back to San Pedro for a return at 3pm.  The BBQ trip again includes snorkeling, this time at Mexico Rocks, known for its large boulder coral formations and resident sea turtles.  After snorkeling, try your luck fishing the waters of Belize and enjoy a fresh catch BBQ prepared just for you on the beach.  A true taste of Belize!
Rent a golf cart and explore Ambergris Caye in island style.  By far the most popular mode of transport, golf carts give you the freedom and flexibility to get out and about on your own time.  For info on all of the transport options, getting around the island and maps, click here. The island is narrow and long, with just one road going north of town past the toll bridge.  The road is paved to Mile 3.5 North, at Coco Beach Resort and Belizean Shores Resort.  Enjoy a meandering ride and check out the thriving restaurant scene throughout San Pedro Town.  A visit to town should also include a little browsing and you might just find the perfect Belizean treasure to bring back home with you.  For more on the types of arts and crafts available for purchase from local souvenir vendors in Belize, click here.
After all that exploring and adventure, let us pamper you and add a little romance to your dining experience.  Private dinners beachside under the stars are available at all of our Sandy Point Resorts.  Enjoy a table for two with your choice of menu selections, drinks and the ambiance that only the Caribbean Sea can provide.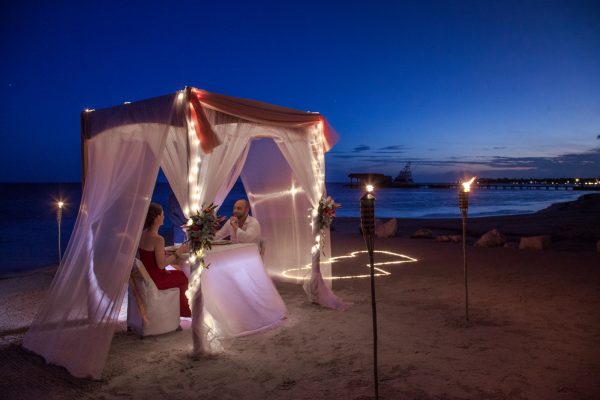 Looking for even more ideas on what there is to do and how to enjoy Belize?  Try here or here. What are YOU most looking forward to on your next Belize spring break? To book a tour now, contact us.