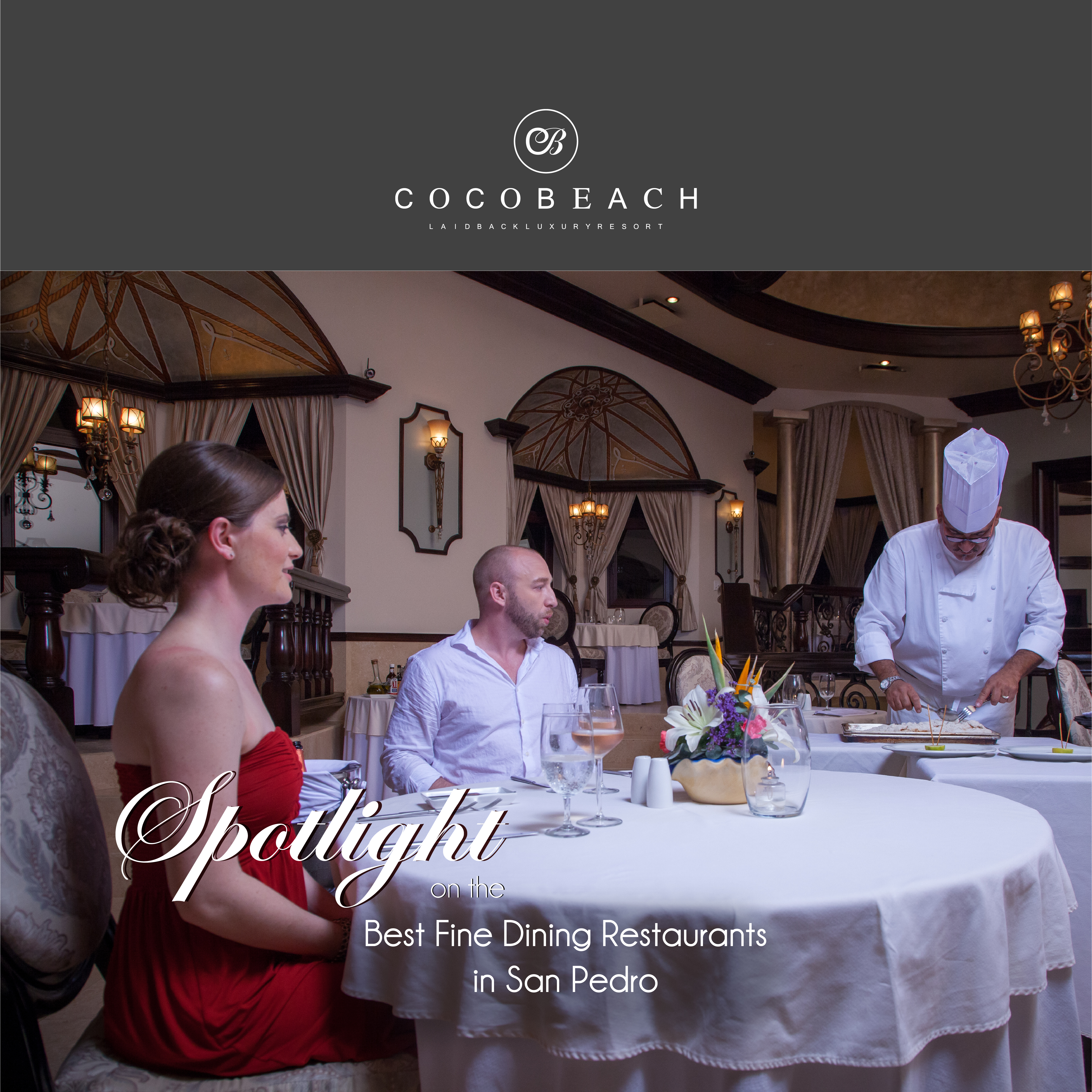 Spotlight on the Best Fine Dining Restaurants in San Pedro
Vacation in Belize has so much to offer and the fine dining options are a highlight that everyone has the chance to experience.  The many cultures combine for a vibrant and dynamic melting pot, showcased best in the flavors found in the cuisine at many Belize restaurants.  Drawing on the rich heritage, tropical flavors, and fresh seafood, you can find traditional meals, Caribbean favorites and some of the comforts of home.  Enjoy the best of fine dining restaurants in San Pedro on your next Belize vacation.
Logistics for dining in San Pedro
Use this handy guide to peruse the fine dining Belize restaurant for your next meal.  Our guest services team at Coco Beach Resort is happy to assist with dining suggestions and arranging reservations for you.  Simply visit their desk in the lobby for assistance.  Depending on the location of your restaurant of choice, you may need to consider transport options.  The public water taxi makes scheduled daily runs up and down the coast of the island, and golf cart rentals are the most popular form of island transportation.  The guest services staff can also assist you with directions and suggestions for the best way to get to the restaurant that you choose.  Reservations are encouraged for larger parties and during the peak travel season.  Some Belize restaurants do close in the fall for a short break so make sure to inquire if there are any seasonal closings that may affect the selection available.  Seafood is available year-round, but do note that lobster season closes Feb-June and conch season closes Jul-Sept.  Many Belize restaurants are able to accommodate dietary requests, for the best success, make advance arrangements.
Onsite Fine Dining at Coco Beach Resort
Experience fine dining without leaving your resort.  The two-story restaurant is lavishly decorated with private alcove dining available.  The bar area is one the lower floor as you enter with a sweeping curved staircase that leads to the main dining area. The menu features local and American cuisine highlighting local flavors and fresh seafood.
3.5 Miles North San Pedro, at Coco Beach Resort | +501 226-4840 | 11:00am – 10:00pm, daily
Southern Ambergris Caye Fine Dining Restaurants
For fine dining in a romantic atmosphere, try Hidden Treasure Restaurant.  On Thursday's enjoy live music for date night.  The exotic hardwood roof and candlelit tables help to set the mood and the menu features Latin-American and Caribbean cuisine.  A perk of this restaurant is the complimentary shuttle service from San Pedro Town or the in-town water ferry terminal.
1.5 Miles South, Escalante Subdivision, South San Pedro | Phone +501 226-4111 | 5pm-9:00pm (Closed on Tuesday)
Located at one of the island's longest-running resorts, Palmilla Restaurant at Victoria House is a longtime fixture in San Pedro.  The intimate space and fine dining experience are ideal for a romantic evening.  Reservations are encouraged.  Daily Chef's Specials are a highlight along with seafood prepared with a local twist. Vegetarian, vegan and gluten-free options are available with advance notice.
Coconut Drive, San Pedro Town at Victoria House Resort |+501 226-2057 | 6:30am – 9:00pm, daily
Fine Dining Restaurants in San Pedro Town
For romantic dining with a sea view, look no farther than Blue Water Grill Restaurant.  With live music every Friday night, sushi on Tuesday's and Thursday's for dinner you can't go wrong.  The menu is vegetarian-friendly.  Try the wood-fired pizza, available every day on the dinner menu.  The restaurant is active in the community, raising money each month for a cause in San Pedro.
Beachfront, Barrier Reef Drive, San Pedro | +501 226-3347 | 7am-9:30pm, daily
An elevated menu utilizing farm-to-table organic ingredients is the star at Casa Picasso.  Fish prepared with bold local flavors, tapas, and Mediterranean influences are highlights of the menu.  Try their unique martinis and custom house cocktails.  The refined dining room creates a fine dining atmosphere to set the mood.
Coconut Drive, San Pedro |+501 226-4443 | 5-9pm (closed Mondays)
Authentic meals cooked over a traditional fire hearth, celebrating the local cultures and traditions through food.  The menu features Caribbean cuisine, seafood, soups, and Belizean classics.  Vegetarian and vegan options are available as well.  The wood fire preparation of many dishes lends a traditional flavor that can't be beat.
#2 Trigger Fish Street, San Pedro Town | +501 206-2121 | 11am- 9pm (Closed on Sunday)
Offering local, international, Mexican, Caribbean, seafood and Central American cuisine. A longtime locally-owned fixture of downtown San Pedro, Elvi's celebrated their 40th anniversary in 2016.  There is a fun atmosphere with colorful décor and sandy floors. Enjoy live music on Wednesday, Thursday, and Saturday with a Grand Mayan Buffet Friday night, all you can eat.
Pescador Drive, San Pedro Town | +501 226-2404 | 11am-10pm (Closed on Sunday)
Fine dining in a truly tropical setting.  Choose from open-air dining on the beach or under the thatched palapa with a Maya flair.  Fan favorites include their steaks, tropical entrees, and cocktails. Tuesday nights bring even more fun with a beach BBQ and live music.
Beachside, Coconut Drive, San Pedro Town at Ramon's Village Resort | +501 226-2071 | 6:00am – 9:00pm, daily
Looking for a night out to celebrate a special occasion? Red Ginger is just the place.  Choose from indoor seating, an outdoor patio, and an upstairs bar.  The menu highlights local fare with Caribbean, seafood and Central American entrees.
Pescador Drive, San Pedro Town at The Phoenix Resort |+501 226-4623 | 7:30am – 9:30pm, daily
This intimate space lets you dine on velvet couches with a romantic atmosphere.  The European flair is reflected both in the décor and the menu. Fine wines and French cuisine are highlights at The French Touch.  Reservations are required due to limited seating.
Barrier Reef Drive, Front Street, San Pedro | +501 631-2600 | 5:30-9:30pm (closed Sunday-Tuesday)
Northern Ambergris Caye Fine Dining Restaurants
Intimate bistro décor with imported gin selections are highlighted.  Delight in the handcrafted pasta, homemade mozzarella cheese, and chocolate fondue.  European flavors and techniques are a hallmark at the bistro.  Fine dining with an authentic bistro ambiance is as captivating as it is delicious.
2 Miles North, San Pedro Town at Grand Caribe | +501 226-4001 | 5pm-10pm, daily
Beautiful, eclectic décor with Indian and Belizean motifs. The restaurant offers fine dining that is family-friendly with indoor and outdoor dining.  There is live music on Friday nights, and they offer complimentary transfers for guests from Northern resorts.  The menu focuses on international & Belizean cuisine. Stuffed Grouper with Crab is popular, also offered is a varied vegetarian menu and they can accommodate vegan and/or gluten-free meals upon request.
5 Miles North, San Pedro Town at Matachica Resort | +501 226-5010 | 8am-3pm, 6:30-9pm, daily
Sophisticated fine dining in an elegant space with sea-inspired décor makes this an easy choice for your romantic night out. Showcasing local produce with seasonal menus, and unique nightly specials, there is something for everyone to try.
3.5 Miles North, San Pedro Town at Las Terrazas Resort |+501 226-4249 | 7:00am – 9:00pm, daily
Choose from the second story Portofino Restaurant for fine dining or enjoy a tapas menu at the Green Parrot Bistro next to the beach.  Portofino offers Euro-Caribbean fusion cuisine, with homemade pasta and daily specials.  The beach views and sea breeze from the tree-house style restaurant offer a unique dining experience on Ambergris Caye.
7 Miles North, San Pedro Town at Portofino Beach Resort | +501 206-5096 | Breakfast 7:30am-11:00am, Lunch 11:30am-4:00pm, Dinner 6:00pm-9:00pm, daily
Located on the rooftop terrace, Rain offers elegant fine dining on Northern Ambergris Caye.  Perfect for taking in the great sunset views over the lagoon and also offers views of the Barrier Reef.  Enjoy handcrafted pasta, a fine steak selection, and a vast and versatile menu.
1.5 Miles North, San Pedro Town, at Grand Caribe | +501 206-4000 | 7am-10pm, daily
Enjoy waterfront dining and sunset views over the lagoon.  An excellent wine menu plus a full bar means that everyone can find their favorite libation; a daily happy hour from 4-6pm.  Try the house-made Sangria and the seasonal Loaded Lobster Grilled Cheese! Pizza, vegetarian options, Italian, American and Caribbean favorites with a rotating daily menu can all be found at Stella's.
1 Mile North, San Pedro Town | +501 602-5284 | 5-9pm (closed Sunday and Thursday)