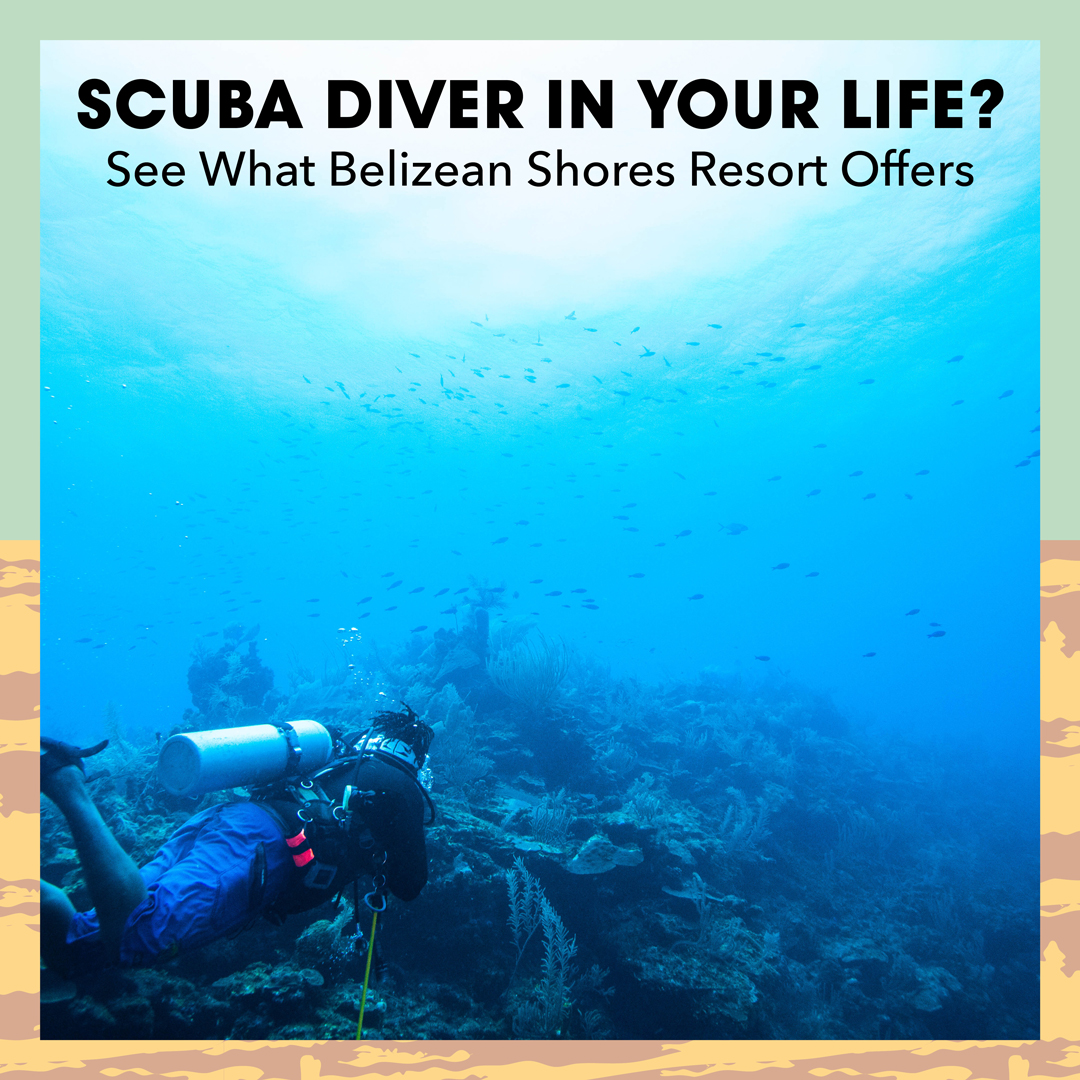 Scuba Diver in Your Life? See What Belizean Shores Resort Offers
Scuba diving is a hobby that is hard to get enough of, once you fall in love with it.  If you or your travel partner is a scuba diver, one of the biggest considerations when planning a vacation is the available diving.  With a trip to Belize, you can position yourself on the largest barrier reef in this hemisphere, the Belize Barrier Reef, which is part of the larger Meso-American Barrier Reef System, stretching from Mexico down past Belize to Honduras.
Ambergris Caye, the largest of Belize's hundreds of islands that pepper the coast, is a diving hotspot.  Aside from the pristine scuba sites that abound just offshore, the island is a thriving destination for travelers looking for resort accommodations, great restaurants, beach bars, and friendly locals.  San Pedro is the island's only town and is the center for most goings-on.  If you are traveling with a non-diver or just want to have some land-based adventures after a day under the waves, Ambergris Caye is a great place to base your vacation.
Belize Reef Protected Areas- Hol Chan Marine Reserve
A big factor in the quality and quantity of dive sites in the area is the protected status of many key marine habitats in Belize.  A popular site for both snorkelers and scuba divers is Hol Chan Marine Reserve, spanning some 21 square miles.  This protected area is divided into different zones by habitat.  The best spot for diving is at the cut, where a natural break in the reef allows for a deeper channel.  The Belize Fisheries Department lists over 250 species of fish, hard corals, sponges, mammals, invertebrates and seagrasses recorded in the marine reserve.  For more on Hol Chan and marine protected areas, click here.
Belizean Shores Resort Excursion Center
The dock at Belizean Shores Resort is home to the excursion center where every dive adventure starts.  The resort offers family-style suites made to let you feel at home, a pool and swim-up pool bar, many onsite amenities, and a front desk team ready and willing to help you make your vacation dreams a reality.  You can sign up for scuba without leaving the resort.  PADI dive instructors are certified through both PADI and the Belize Tourism Board as tour guides and are local experts in their field.  The reef is their underwater backyard and they know it well.
Highlighted Dives
The package for divers includes mask, fins, weights, and air; divers that do not have dive gear can rent onsite as well. Water and fresh fruits are available on all dives.  There is a great range of local dive sites available, from anywhere between a five minute and a fifteen-minute boat ride from the dive shop, suitable for a variety of divers. All of the dives on the barrier reef are drift dives. Belize does not allow the use of anchors on the reef, so we moor up on a mooring line, where you will come to the back of the boat and get into your equipment and use the backroll entry into the water. A float line is used to the back of the boat for divers to hold on to while the rest of the group enters the water. Once everyone is in the water, you descend and start the dive, led by a guide. Our two-tank dives last between three and three and a half hours, dependent on group size.
New to diving? Try Discover Scuba Dive
No experience is necessary to dive into the world of scuba (pun intended).  If you are intrigued but not yet ready to commit to a multiple-day PADI dive certification, a day spent on a Discover Scuba experience might be the right fit for you.  This is not an official certification and is completed in just a couple of hours, after which a shallow-water dive is done along with your divemaster.  This half-day starts with an explanation of the rules of diving and how the session will work.  You enter the water get accustomed to the regulator and the rest of the equipment.  Once you're comfortable in the water your instructor will introduce you to some skills to practice. You can then choose to go on a dive with a max depth of 40ft along with the divemaster.  This excursion is not an official certification valid after your stay.
Some of the best scuba diving spots in Belize can be accessed with ease while basing your dive vacation on Ambergris Caye.  For some eye candy of what you can expect to see on a dive here, check out 8 Sure-to-See Fish on Your Belize Dive.  Get the best of resort diving when staying at Belizean Shores Resort.  For more info, contact us today!