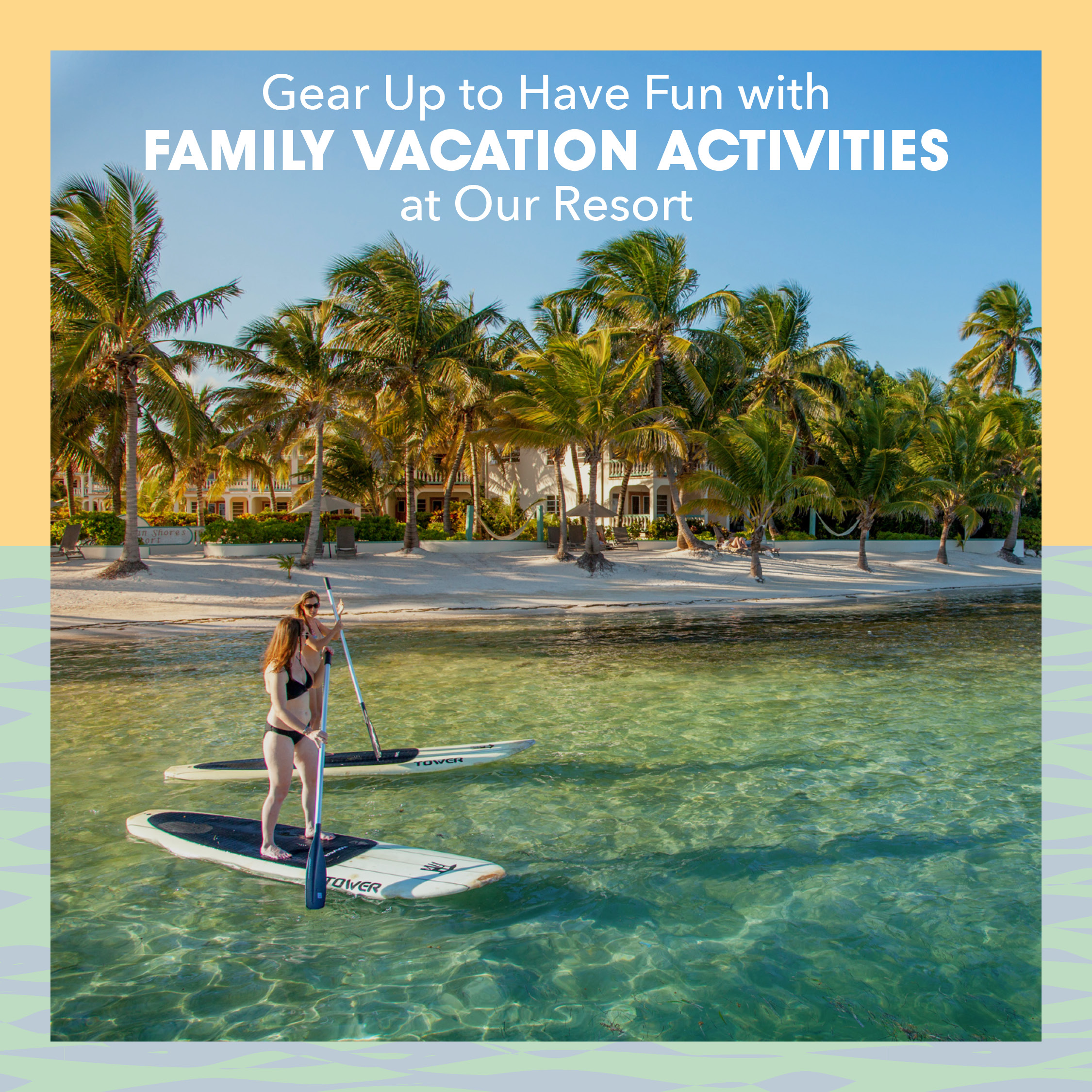 Gear Up to Have Fun With Family Vacation Activities at Our Resort
Enjoying a family vacation at Belizean Shores Resort is a no-brainer.  The many family activities available right on site are sure to keep everyone happy.  No matter the ages or interests of your family members, the complimentary resort amenities are perfect for your Belize family vacation.  While planning a few excursions for your family is a sure way to make unforgettable memories, time spent right at your resort with no advance planning needed can be just the thing.  You'll feel right at home at Belizean Shores Resort and find everything you need within an arm's reach.  The many complimentary activities at the resort offer a variety of ways to spend time together as a family enjoying all that Belize has to offer.
Complimentary Resort Amenities
Kayaks
Kayaks are available for guests to use during the day, weather dependent. The excursion center on the dock, operated by Tuff E Nuff Tours, will set you up with a single or double kayak, paddles and life jackets. Take a self-guided tour of the shoreline and keep an eye out for dolphins, stingrays and a myriad of fish swimming in the low turtle grass near the beach.
SUP Boards
Squeeze in a vacation workout disguised as fun in the sun by taking a spin on a Stand-Up Paddle Board along the coast. SUP Boards are available at the excursion center on the dock during the day and dependent on wind and weather. From your higher vantage point standing on the board, it is easier to spot marine life as you glide through the water.
Tennis Court
Play a game of tennis at our tennis court. Equipment is provided, though you may bring your own if you like. The court is available on a first-come, first-serve basis and is located near the lobby and next to the basketball court. It's a great way to stay active while avoiding the monotony of a regular workout.
Basketball
A casual pickup game or one with the whole family will keep sports enthusiasts happy. The basketball court is next to the tennis court and is also available on a first-come, first-serve basis. Basketballs are available at the front desk.
Ping Pong Table
Should you get tired of soaking up the sun by the pool, try a ping pong tournament! The ping pong table is open for guests and is located between the front desk building and the swimming pool. The front desk has the ping pong paddles and ball.
Giant Chess
For a fun twist on an old classic, Belizean Shores Resort has a giant chess set for guests to play with. Keep your mind sharp and spend some time strategizing your way to victory. The chess set is centrally located behind the pool near the tennis and basketball courts, and the ping pong table.
Playground
For the younger travelers, a large wooden playground is next to the front desk building. Swings, a slide, a climbing wall, and a rope wall, along with a few other play elements, complete this fun playground. Playgrounds are universal and a great place to meet other families that are also vacationing at the resort.
Swimming Pool
Always the crowd favorite, the swimming pool at Belizean Shores is a well-laid out pool with deeper areas for swimming, a zero-entry end, and even a swim-up pool bar. Shaded pergola areas have cushioned loungers and beach loungers with umbrellas are spaced around the pool as well. A hot tub is located in the very middle.