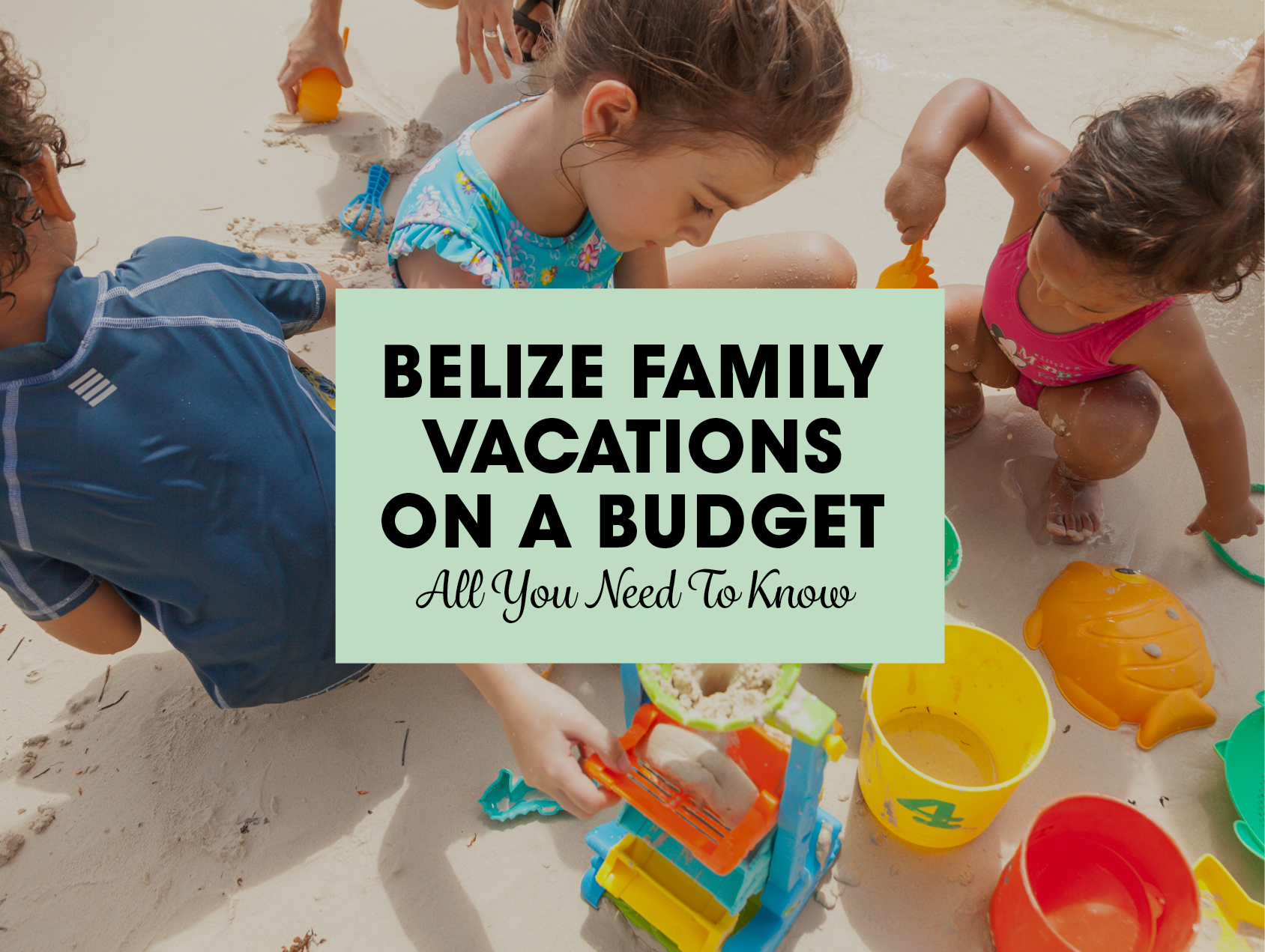 Belize Family Vacations on a Budget- All You Need to Know
Looking for a tropical family vacation destination? Belize might just be that magic destination that everyone in your family can enjoy.  Whether you have young children, teens or a multi-generational group, Ambergris Caye in Belize is the place for you.
For starters, it's an easy day's travel from many hubs throughout North America.  The official language is English and many countries, including the USA and Canada, enjoy an automatic 30-day visa on arrival.  Belize is a great first international destination for those who have not traveled extensively due to the ease of travel, proximity to the USA and friendly locals.  For a comprehensive source of info on travel logistics to Belize, visit our handy guide, here.
Ambergris Caye (pronounced "key") is the largest of Belize's many islands that pepper the Belize Barrier Reef.  The reef is this hemisphere's largest and is part of the Meso-American Barrier Reef.  Ambergris Caye is positioned about a half-mile from the reef, with the reef getting closer the farther north you go up the 25-mile long island.   Due to the geology that dictates the reef and the island, Ambergris Caye does not have traditional walk-in beaches like other Caribbean destinations.  Our shoreline has quite shallow water out to the reef that provides an important habitat for many juvenile marine creatures.  For the full scoop on our beaches, check out this post on the beaches of Ambergris Caye.  The adventure opportunities that the reef offers are the real shining star of a Belize beach vacation.  From fishing to world-class snorkeling and diving, you won't tire of the many water sports available.  Should you wish for a change though, you can't beat a little R&R at the swimming pool at your resort.
Family vacations in Belize offer a great variety of activities that are appropriate for fun lovers of all ages.  Options include a tranquil sail in the Caribbean blues, touring the Belize Zoo and meeting the quirky national animal and even exploring an ancient Mayan temple.  Read more on family adventures that you can all do together, here.
To stretch your vacation dollars, choose a resort that has the capacity to host the whole family together, whether with an extra sleeping loft, pull-out sofa bed or connecting units.  Accommodations that include a kitchen space can be invaluable when traveling with kids and their seemingly endless appetites.  Ambergris Caye has a wide variety of restaurants in San Pedro Town to choose from as well.  Menus typically include Caribbean favorites as well as familiar foods such as pasta and burgers.  Many establishments have kids menus for the younger crowd.  Brand name snacks and beverages are harder to come by in Belize or are more expensive than at home.  If there are certain packaged foods that you prefer a brand name of, it's a good idea to bring those with you.
Traveling around Ambergris Caye is mainly done via a golf cart.  There are many providers to rent from, often right at your resort for your convenience.  Models are for either four or six passengers.  The main road north on the island is paved until Mile 3 and then continues north as a gravel road.  There is a toll bridge at the entrance to San Pedro Town that applies to all road traffic, including golf carts.  Bicycles (including kids' frames) are often available to rent or as a complimentary amenity at many resorts and are a good option for short trips and to explore the island close to your resort.  There is a public water taxi that makes scheduled daily runs up and down the northern coast daily.
A vacation wouldn't be complete without some souvenirs to bring home.  Here's our guide, along with a handy starter on some Belize Kriol phrases to learn before you go.  Looking for more pro tips on family vacations? Right this way.   Come explore Belize and make family memories to last a lifetime.