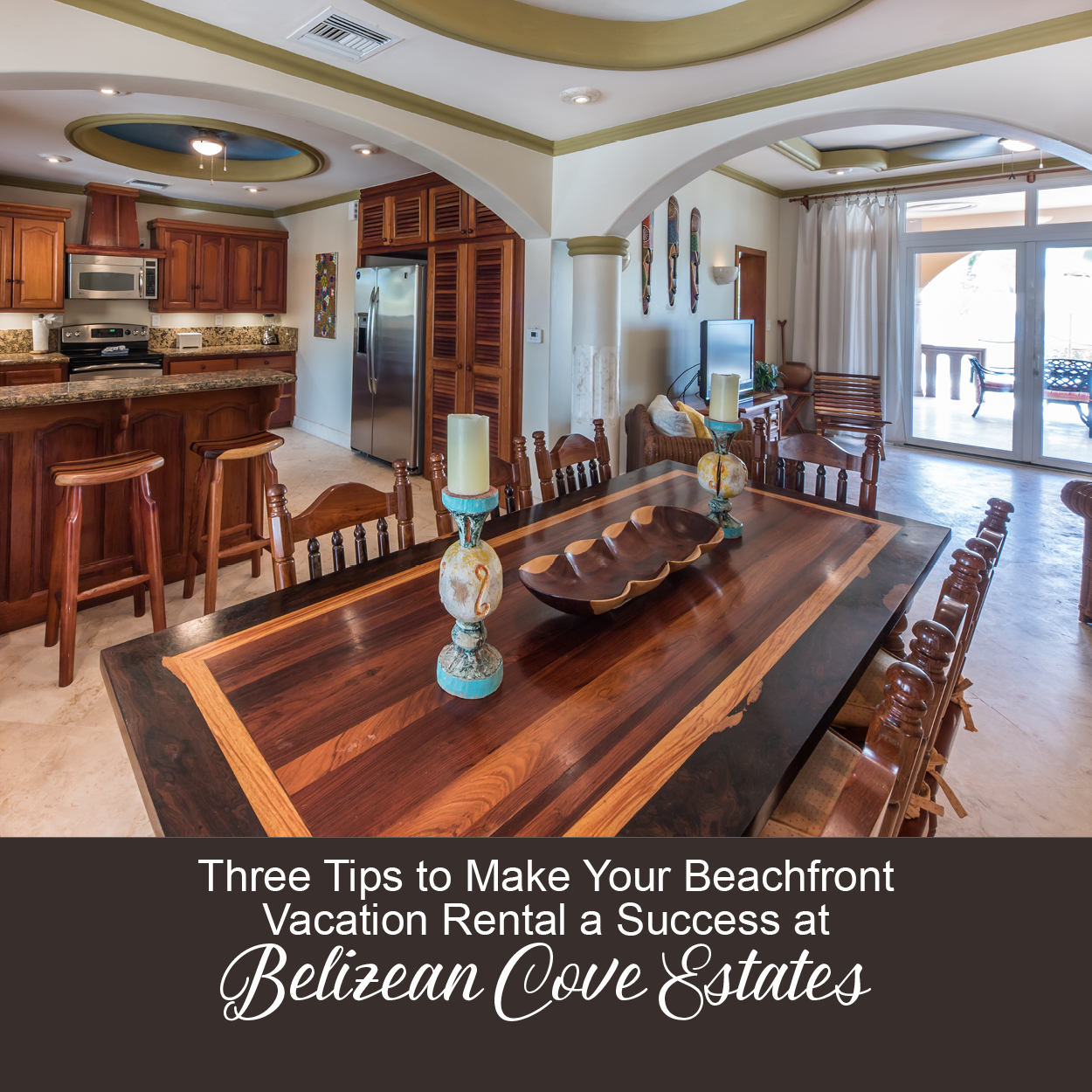 Three Tips to Make Your Beachfront Vacation Rental a Success at Belizean Cove Estate
An oceanfront villa vacation in Belize has everything you need for luxury, relaxation, and adventure.  When you stay at Belizean Cove Estates you get all the advantages of a beachfront vacation rental with the added benefit of front desk services and onsite amenities that help to make your getaway convenient and hassle-free.  Three key components to this are ease of transportation via a golf cart rental, a fully-stocked kitchen with a provisioning service and a private chef for hire to cater perfect dinners in your villa.  At Belizean Cove Estates, all three are easy to access and set up with help from the front desk.
Golf Cart Rentals on Ambergris Caye
Enjoy the freedom of adhering to your own schedule and exploring the island with a golf cart, one of the most popular forms of transportation.  The island of Ambergris Caye is some 25 miles long, with San Pedro Town being the heart of things.  There is a toll bridge for all motorized traffic (golf carts included) at the north end of town, and the road is paved to 3.5 Miles North at Belizean Shores Resort.  Travel in island style as you explore local gift shops, dine at a variety of hot spots and check out the now-famous Secret Beach on the lee side of the island.  Golf carts are considered motor vehicles and as such follow the same traffic laws- make sure only licensed drivers operate the golf cart and carry their valid driver's license with, don't drink and drive, and adhere to all traffic signs.
How to reserve- Contact the front desk either prior to your stay or on arrival to arrange for your golf cart rental.  Advance reservations are encouraged during the high season to guarantee availability.  No deposit is required to reserve your golf cart.
Benefits of arranging directly through Belizean Cove Estates- Onsite golf cart rental takes any hassle from the equation.  The price includes gas, taxes, and maintenance (washing) of the cart during your stay. Upon arrival, we will only need a valid driver's license so we can start the contract. The charges for the golf cart will be posted to the room incidental for payment upon departure.
Cost- Depending on the length of your rental and the size of cart needed, plan to budget between US $80-$115 per day.  Golf carts come in 4-seater or 6-seater options and rentals start at an hourly rate all the way to a weekly rental rate.
Provisioning Service
At Belizean Cove Estates, each of our six beachfront villas has a spacious kitchen with luxury touches.  Take full advantage of the gourmet kitchen, stainless steel appliances, and granite countertops when you use a provisioning service ahead of your arrival.  Vacation is not a time for errands like grocery shopping, skip the fuss and arrive at your fully-stocked villa, ready for a relaxing stay, complete with your favorite snacks, fresh fruits, and cold drinks.  We recommend using the online provisioning service offered from nearby Mata Grande Grocery to make stocking your villa's kitchen ahead of arrival quick and easy.
How to reserve- Browse the offerings at Mata Grande Grocery and make your purchases online before you travel.  Visit their website by clicking here.  Orders must be placed at least four days in advance of delivery.
Benefits of arranging directly through Belizean Cove Estates- Mata Grande Grocery is a nearby store that offers provisioning services and will stock your room on the day of your arrival so that everything is stocked in your kitchen when you arrive at your villa.
Cost- Prices listed online are in US Dollars.  For orders US $250 and over, there is free delivery, the regular delivery cost is US $25.  Peruse their listings in the online shop for detailed pricing information.
Chef for Hire
For the ultimate in vacation luxury, hire a private chef for hire to prepare dinner in your villa.  Whether you are out adventuring for the day or just relaxing by the pool, you won't need to lift a finger to prepare (or clean up!) the night's meal.  The chef service will prepare your choice of menu in your villa and serve the meal.  It includes a main entrée, two side dishes, one appetizer, and one dessert, all courses served family-style.  This is a great choice for a special celebration, dinner party with friends or a stay-at-home date night.
How to reserve- Contact the front desk to make your reservation for a private chef.  They are booked on a first-come, first-serve basis and we recommend that you reserve your meals well in advance of your arrival to ensure availability.  To confirm your reservation, include your requested date and the number of people for the meal.
Benefits of arranging directly through Belizean Cove Estates- Our front desk team can take care of all of the details and logistics, including coordinating your menu of choice.  Personalized menus can also be accommodated, including dietary requests, with advance notice.
Cost- Pricing is dependent on meal choice, plan to budget the following per person, per meal: The average chicken meal is US $40 to $45; the average fish or shrimp meal is US $50 to $55; they also prepare your own fresh catch fish, US $40.  Personalize menus also available, pricing estimates on request.