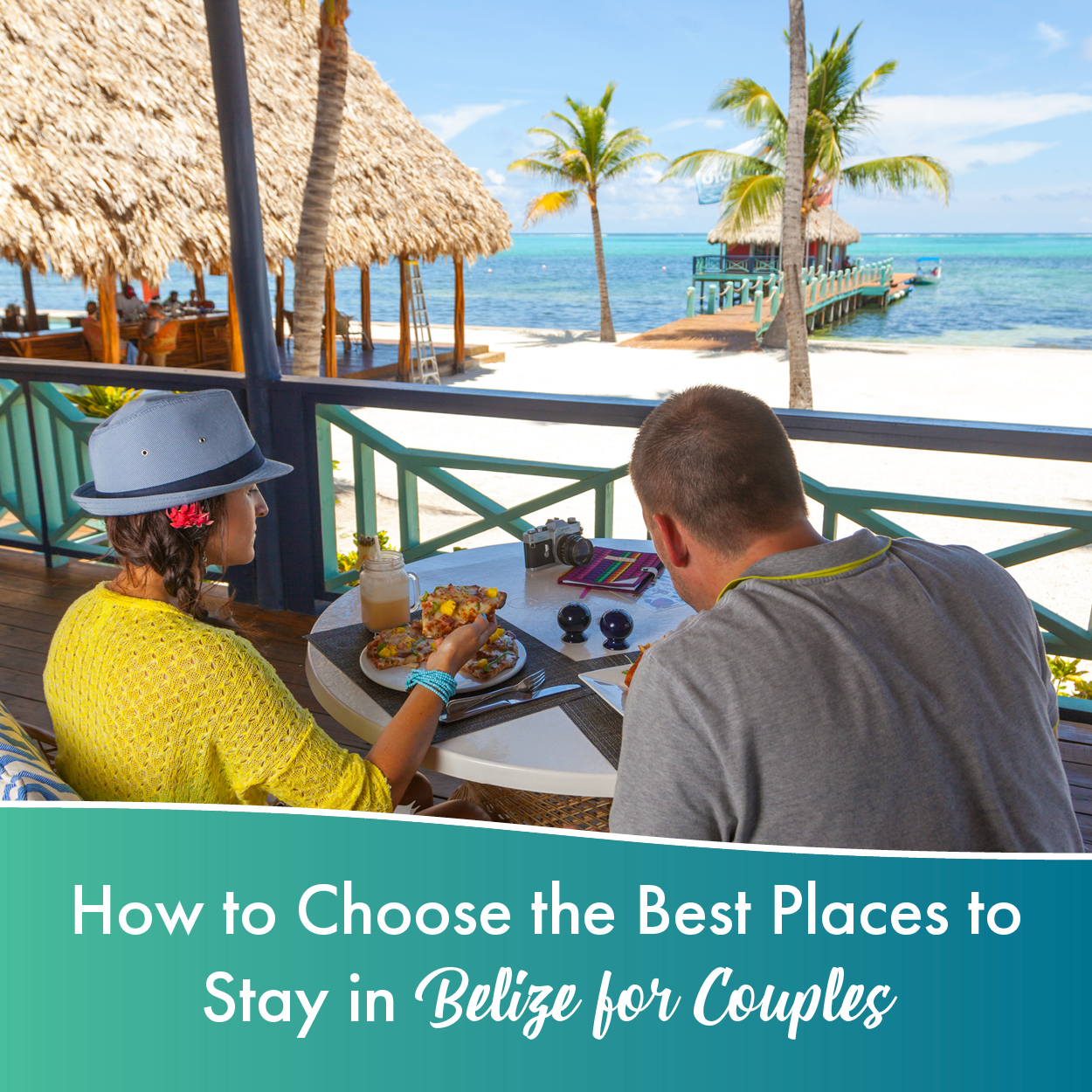 How to Choose the Best Places to Stay in Belize for Couples
That romantic trip for two to Belize is finally happening!  You can already picture the pool days lounging in the sun, the romantic dinners and some spa pampering.  When narrowing down your choice of accommodation in Belize, there are six main points to consider.  Focus your attention on these considerations and your decision will almost make itself.  Which resort offers the best in each category according to your preferences?  Peruse the list here, and finalize your vacation plans.
Resort Location in Belize
A quick way to narrow down your search is to decide if you'd like to stay in the verdant jungles of Belize or beachside on an island. Ambergris Caye is the largest of Belize's many islands and is a popular choice for romantic vacations. A thriving restaurant and bar scene, top-notch excursion providers and stunning coastal scenery provide the backdrop for a fantastic getaway with your sweetheart. Consider staying north of the bustling San Pedro Town where you will find a slower pace of life, plenty of beachfront to explore and some well-earned peace and quiet. Costa Blu Adults Only Beach Resort is 6.5 miles North of San Pedro and has an expansive beachfront with hammocks, beach loungers, and umbrellas. Have a beach day, claim your spot and move only for cold refills of your favorite beverage.
Resort Accommodations
To make the most of your time away together, choose an accommodation style that lends itself to relaxation. The suites at Costa Blu have a separate living space with a kitchenette (coffee maker, microwave, sink, and mini-fridge) and bedroom with a king bed and a private bathroom with shower. The lower units have a covered veranda and the upper units have an open balcony, all offer spectacular views of the manicured grounds and the Caribbean Sea. WiFi, Air-conditioning and cable TV round out the in-room amenities. Daily housekeeping is provided to keep your villa in tip-top shape.
Restaurant and Bar
Dining options are an important factor in your decision on where to spend your couple's getaway in Belize. At Blu Restaurant and Beach Bar, you can enjoy meals inside the restaurant, on the spacious patio or from the comfort and privacy of your suite with room service. Blu Restaurant specializes in global fusion cuisine and is open daily serving breakfast, lunch, and dinner. The swim-up pool bar is open daily providing entertainment and refreshments to enjoy without ever needing to leave the pool and dry off. To add a little extra romance to your dining experience, plan a special private dinner on the beach for just the two of you. Dine under the stars with the sound of the waves on the reef.
Spa Pampering
A great service to check out in a potential resort is their spa setup. At Costa Blu, we partner with a mobile day spa, Escape Day Spa, to provide the best in pampering spa treatments. They specialize in locally-sourced Belizean ingredients, starting with the pure coconut oil that is the basis for many treatments and massages. Couple's massages are available either at our beachside spa location or in the privacy of your room or balcony. Packages, facials and specialized treatments are also available to leave you feeling relaxed and pampered.
Swimming Pool
Lazy days by the pool reading, splashing and just enjoying time together can be a great way to unwind and reconnect. The pool at Costa Blu has three sections including the heated swim-up pool bar. The many beach loungers and umbrellas mean that you never need to worry about saving your favorite chill-out spot by the pool. The pools are centrally located off the lobby and the restaurant, with fantastic views of the sea, reef and tropical palm tree landscaping.
wp_4 Activities
Look for a resort that has plenty to do right wp_4. While exploring the area and trying new adventures can definitely be a highlight of your vacation, so too can having fun without needing to venture very far. At Costa Blu, there are many complimentary activities to try. Take a kayak or SUP board for a tour of the coast, grab some other travelers and get a game of beach volleyball going, or play bean bags on the beach. Beach cruiser bicycles are also available for a small daily rental fee, equipped with large baskets for a picnic or beach gear.
An additional benefit you might search out is an adults-only resort.  Costa Blu Adults Only Beach Resort is one of just a few resorts in Belize that cater only to adults. You can relax knowing that the other guests at the resort are like-minded in their choice to enjoy a Belize vacation sans kids.  To make your Belize vacation dreams come true, contact us today to reserve your stay.