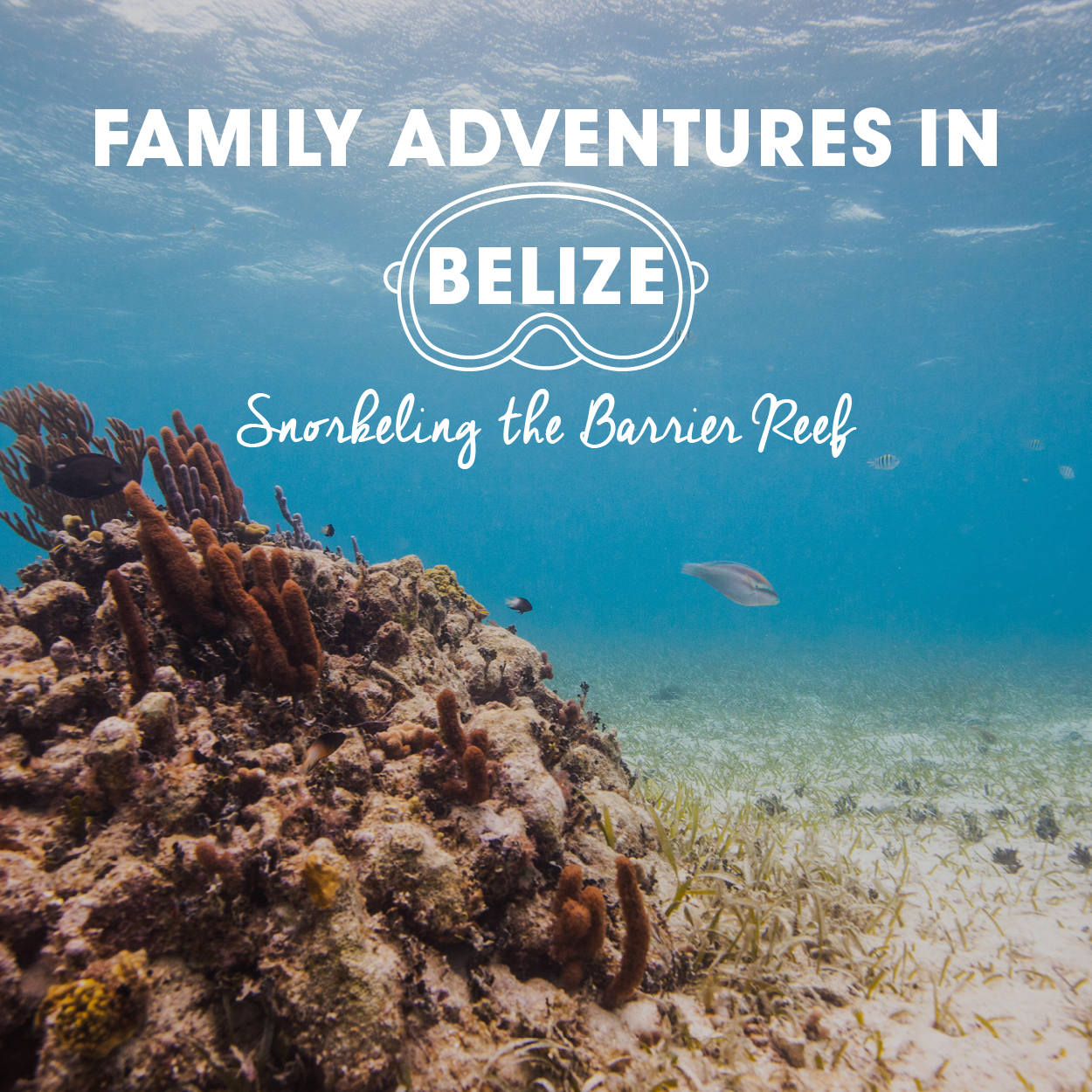 Family Adventures in Belize – Snorkeling the Barrier Reef
Breakfast is had while watching the world wake up over the Belizean coast.  Swimsuits are donned, sunscreen applied and the whole family walks over to the resort dock where a friendly snorkel guide and boat captain gather the needed gear.  With that, you're off on a Caribbean adventure with a memory that won't fade with your tan lines.
Snorkeling in Belize during an Ambergris Caye family vacation is a must-do.  The Belize Barrier Reef is this hemisphere's largest reef system and stretches some 300 km along the coast of Belize. It is part of the larger Mesoamerican Barrier Reef System, which is over 900 km long.  Ambergris Caye is perfectly positioned as a snorkeling and diving hub as the reef sits about a half-mile offshore, getting closer to the north until eventually meeting the land at Rocky Point.  There are a myriad of local snorkeling sites, the most popular tours are Hol Chan & Shark Ray Alley and Mexico Rocks.
Planning a half-day snorkeling tour at Coco Beach Resort couldn't be easier.  Our fantastic tour partner, Tuff E Nuff Tours, has an excursion center right on our dock.  Sign up directly with them or stop by our concierge desk in the resort lobby, make sure to plan your snorkel at least 48 hours in advance.  Kids of all ages are welcome on snorkeling tours, parents can use their own discretion on the abilities of their children.  The youngest might be happier to stay on the boat while the parents or other adults tag team snorkeling. Life jackets are provided for those that would like them to assist with floating.  All tours start with an orientation and some background of the snorkeling site.  Your guide will lead the group and point out the various fish, coral and sea creatures to be seen.  Half-day trips depart daily at 8:30am and 1:30pm, weather permitting.
Hol Chan & Shark Ray Alley
This is a half-day snorkeling tour to the most popular sites in the area.  Hol Chan means "little channel" and is part of the larger Hol Chan Marine Reserve.  The snorkel site at Hol Chan is shallow and protected, with a rainbow of marine life to be seen.  Make sure to watch for the resident sea turtles feeding on the aptly-named turtle grass.  You then continue over to Shark Ray Alley where you can swim with nurse sharks and stingrays.  Experience the thrill of floating in the sea while these gentle giants swim around you.
Mexico Rocks
This site is unique in that it has large boulder coral formations, one of only two sites in Belize where they can be found.  Mexico Rocks is the newest marine protected area in Belize and is still being discovered by travelers.  Make sure to explore it while you are in Belize.  Tours to Mexico Rocks are half-day trips, the site is located about 7 miles north of San Pedro Town, about a 15-minute boat ride from Coco Beach Resort.
What to Pack
Wear your swimsuit and any sun-protective clothing such as a cover-up, hat and glasses for the trip out to the reef.  Bring a water bottle and make sure to apply a reef-safe sunscreen before getting on the boat.  All snorkel gear is provided as well as cold water and soda.
Make memories together as a family while on vacation in Belize.  Whether snorkeling is a new adventure or a well-loved family pastime, the underwater experience is something that your family can bond over.  Contact us to schedule a snorkel tour for your stay.