Did you know that Belize is perfectly situated in the middle of the migratory path of many bird species? This means that twice a year during the spring and fall migrations, thousands of birds pass through Belize, some staying for the winter and some heading further south. Belize also has a fabulous population of resident birds, many with exotic colors and patterns. For birders, Belize is fast becoming a must-visit destination. But for the casual observer, it's worth spending even a small amount of time checking out the feathered friends you can see here. 
What to Watch For
Birds are most active at daybreak and dusk.  Waking up early is a great way to see the most birds in the least amount of time, and to enjoy the dawn chorus. Even if you can't pick out all of the calls, or any of them, there is something magical about hearing the trills, chirps, and whistles from dozens of species of birds, deep in the jungle or watching the sunrise on the beach. With mid-day come the soaring raptors. While you enjoy lunch and a cold beverage, keep an eye on the sky for birds of prey taking advantage of the thermals to reach great heights.
Photo credit: Anna Brakeman
What Gear to Bring
There are only a few pieces of gear that are really necessary and others that can be helpful to have.  Binoculars and a bird book are great to get you started, and you can go from there.  A knowledgeable local guide with a specialization in birding can really make your experience much better. They know the birds and the vocalizations by ear, but they also know the areas you are more likely to see great birds.
Binoculars
Long clothing to prevent insect bites
Sturdy walking shoes
Snacks and water
Bird guide book
Camera
Sun protection
Spotting scope- serious birders only, and often your guide will provide this
Where to Go
Amongst birders, there is a phenomenon called the "Spark Bird." This is the bird that started it all, and really piques a person's interest in birds, and in birding. For Belize, the Spark Bird is the Red-footed Booby, whose nesting grounds on Half Moon Caye were made the very first protected area in Belize in 1928. Today, more than 25% of the country has some type of protected status. These protected areas make for fantastic birding. While you can see great birds just about anywhere, here are a few hotspots.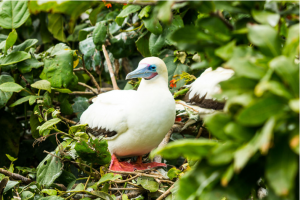 Crooked Tree Wildlife Sanctuary is a haven for waterbirds, especially in the winter months. Managed by the Belize Audubon Society, it is 16,400 acres of wetland, trails, and birds as far as the eye can see.
Cockscomb Basin Wildlife Sanctuary is the world's first jaguar reserve. When you protect the apex predator, you protect everything else in the ecosystem. This protected area is 128,000 acres dotted with waterfalls, hiking trails, and rugged peaks.
Mountain Pine Ridge Forest Reserve is on the western side of the Maya Mountains and is at a higher elevation than most of the country. This makes for some unique habitats and interesting birds. The remote nature of this area means that it is frequented less by humans, though there is active logging in some places.
Ambergris Caye is the largest of Belize's hundreds of islands. This is a great place to see resident water and shorebirds, along with a myriad of migrating birds that pass through each spring and fall. The many resorts and restaurants here make it a great vacation spot.
Half Moon Caye Natural Monument- Located on Lighthouse Atoll, the island has a nesting colony of Red-Footed Boobies. The Great Blue Hole is also in the atoll, and diving trips there include a stop on the island. Watch for pelagic species or migrating birds during fall and spring.
The Belize Zoo- No, the birds on exhibit don't count. But for many of them, it may be your only shot to see them in person, especially the two stunning Harpy Eagles. The grounds of the zoo are teeming with wild birds due to the natural landscaping and native plants.
Mayflower Bocawina National Park- Two words. Scarlet Macaws! In the winter and spring months, these flying rainbows leave their nesting grounds deep in the Chiquibul Forest and fly across the mountain range to feast on fruiting trees in the area.
San Ignacio Town- The many eco-resorts in the area are fantastic birding spots. Many have hiking trails on their property and birding guides on staff.
Happy birding