What to Expect at the Beaches in San Pedro
With the Barrier Reef just off-shore, the island of Ambergris Caye enjoys water that is calm and fairly shallow. You won't find big rolling waves here, but you also will not have black flag days with a current that makes it unsafe for swimming. In Belize, all beachfront is public. This does not include beach furniture or toys, but you can swim at any of the beaches you find on the island. Docks are public from 6am-6pm. Turtle grass is found growing in some areas due to the calm and shallow water, and it provides an important habitat for juvenile marine species. Most of the colorful fish and creatures that can be seen on the reef while snorkeling spend at least part of their life cycle utilizing the protection of turtle grass.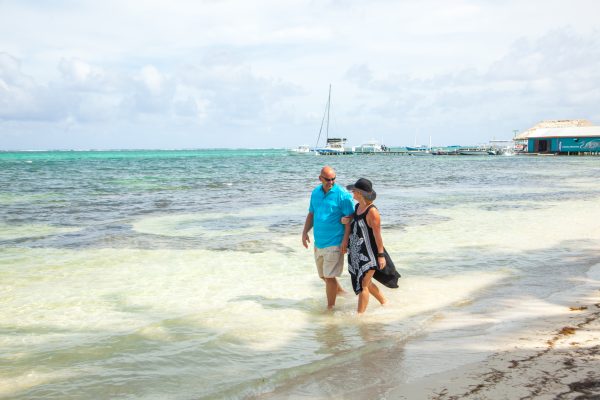 For deeper water to really swim in, you may have better luck swimming off a dock. Most resorts have docks with a roped-off section for swimming where boats will not be. Depending on the beach and the time of year, there may be a crowd. Secret Beach is almost always hopping with both locals and tourists, especially on the weekends and holidays. The same is true of Central Park and Boca del Rio, which see the biggest crowds over Easter weekend. Locals from the mainland flock to the islands for this 4 day holiday weekend. Outside of big festival events or celebrations, most beaches are quieter. For more on the beaches of Ambergris Caye, click here. Looking for the best beaches in Belize? Click here.
Southern Beaches of Ambergris Caye
Mar de Tumbo- This stretch of beach is just south of San Pedro Town. There are resorts in this area, including Banyan Bay and Banana Beach. The sandy beach is wide and expansive, with over one thousand feet of beach. Peppered with coconut palms, the view here is idyllic.
Ramon's Resort- This resort beach is a great stop for a swim or to wade in the warm water. The resort amenities and beach furniture are reserved for guests, though anyone can swim at the beach. The water is calm and shallow and the dock is a popular spot for local children to swim off of. The resort is a long-time island fixture and the beach is picture-perfect with many coconut palms.
Beaches in San Pedro Town
Central Park- Right in the heart of San Pedro Town is Central Park. A place for community gatherings and festivals, there is also a children's playground. The park is right on the coast so the beachfront borders it. One of the water taxi docks nearby and there are several restaurants and bars in the area. If you are in town and just can't go another minute without a swim in the sea, this is a great spot to spend some time.
Boca Del Rio- Named for its location at the "mouth of the river," this stretch of beach ends at the river and the toll bridge that separates San Pedro Town from North Ambergris Caye. There is also a beach road that passes through this area. The northern section by the river is the best spot for swimming and is a popular local spot, especially on the weekends. Sandy Toes beach bar is a nice hangout spot a bit further down as well.
Northern Beaches of Ambergris Caye
Secret Beach- This beach has gained great popularity by locals and tourists alike in the last few years. Located on the lee side of the island, about 4 miles north of town, it is a great day trip. The location of the beach means that there is none of the Sargasso seagrass that seasonally washes ashore elsewhere on the island. It's always busy on the weekends and holidays. There are several beach bars and restaurants, as well as water sports and toys to rent.
X'tan Ha Resort- Located 7.5 miles north of San Pedro Town, this waterfront paradise has one of the best sandy beaches on the reef side of the island. When you choose to stay here, you can walk just steps from a seafront villa and find your favorite spot on the beach. This is a resort beach, so it is not often crowded. There is an over-the-water beach bar as well. Guests of the resort can also enjoy the water trampoline, kayaks, and SUP boards.
There are many beaches in San Pedro to explore. Rent a golf cart, pack some snacks and your beach gear, and spend part of your vacation enjoying some of the beautiful beaches of Belize. Make sure you don't miss snorkeling or diving the reef as well, you won't soon forget it!