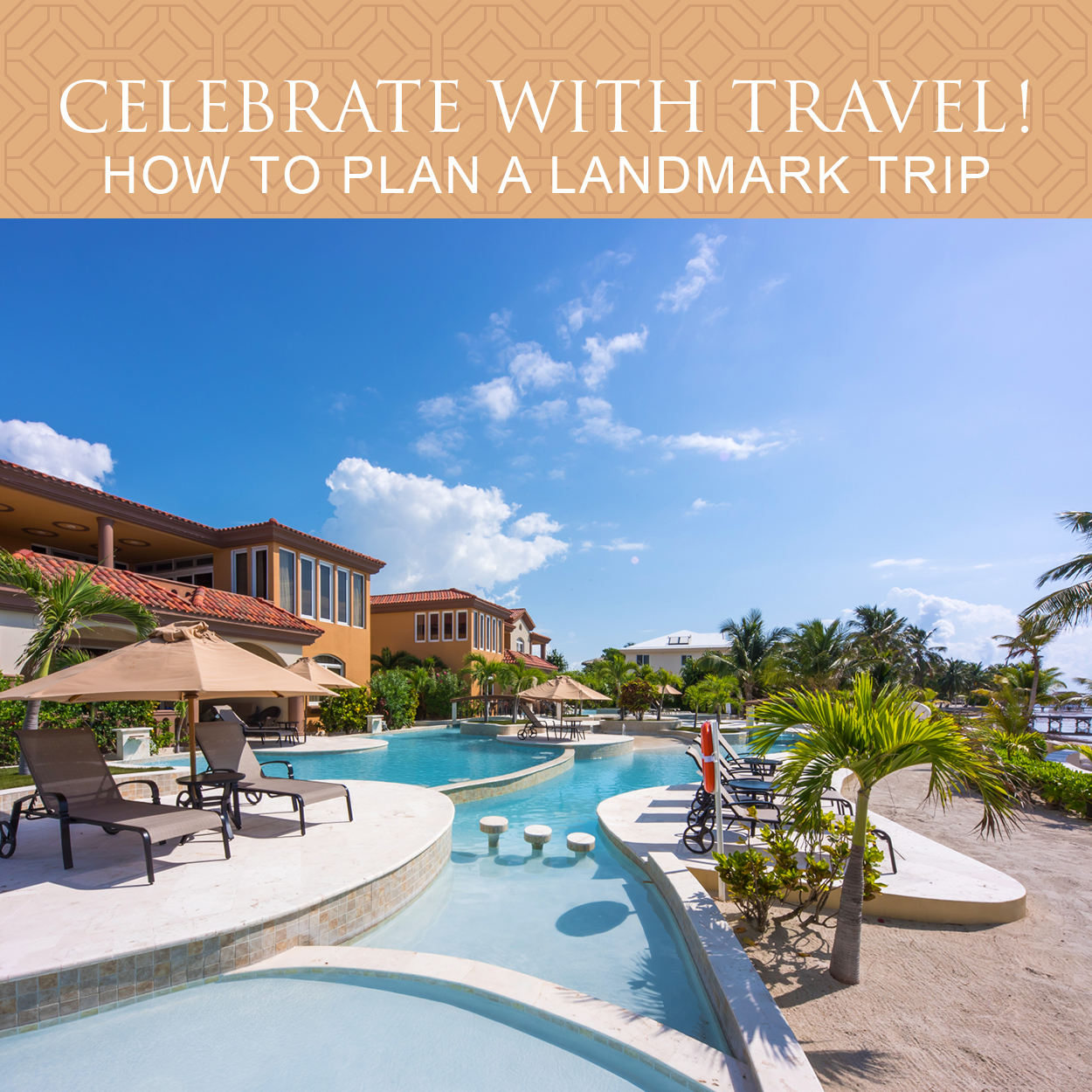 Celebrate with Travel! How to Plan a Landmark Trip
The milestones that inspire travel can be endless.  Choosing to spend time together in an exotic destination sets the celebratory tone. Planning a trip as a way to celebrate is sure to make your special occasion unforgettable.  To get you started on your merry way, here are our suggestions for planning a vacation around a special occasion.
Type of occasion
Perhaps the first consideration is the occasion itself.  There are many reasons to celebrate and your specific circumstances will help to shape your trip.  Just a few great reasons to gather with those you love and enjoy a vacation are a reunion, a honeymoon, an engagement, a wedding, a birthday, an anniversary, or graduation.  There surely are more, the sky's the limit!
Planning your occasion
There are certain considerations to take that will result in a more enjoyable and stress-free time for all.  When deciding on a destination, travel distance and an English speaking country can make things much easier for you and your guests. Belize satisfies both of those points with the bonus of being a tropical destination with warm weather year-round.  The precise reason for your celebration will help you curate the invite list if one is needed.  An intimate getaway for two to enjoy an engagement or honeymoon needs just the two of you.  A destination wedding or reunion trip will benefit from a more formal invitation so that advance planning can be taken care of.  Be sure to leave enough time between your invitations and the trip so that everyone may make travel arrangements and take any needed time off work.
Accommodation options
Belizean Cove Estates offers luxurious private villas that are the ideal setting to host your celebration.  The six villas can each be rented as 1, 2 or 3 bedroom and bathroom options, giving you the flexibility that you need to accommodate your group. Gourmet kitchens and spacious floor plans allow for everyone to spread out.  With your destination picked and your guest list curated, the next step will be to think about the celebration itself.
Activities for celebration
Will there be a landmark activity like a party or dinner that your trip will center on?  Taking the time to plan out these activities ahead of time means that everything will be arranged and will take little to no effort on your part during your vacation. The guest services team is happy to coordinate activities for you.  Consider a chef for hire to wow you all with a stunning dinner in your villa or on the balcony overlooking the Caribbean.  Take advantage of the tropical setting by incorporating some experiences that highlight Belize.  Charter a catamaran for an unforgettable day on the sea snorkeling, fishing, relaxing or all three.  If you are scuba certified, dive the Belize Barrier Reef, the largest in this hemisphere.  The free form pool at Belizean Cove Estates is the perfect place for mingling and soaking up the sun with those that you love, all gathered together to celebrate.
Conclusion
Just as scents and songs can transport you back in memory, so too can travel destinations.  The unique smells and sounds that you experience on your trip will be etched in your mind.  Should you return to Belize, you will instantly be transported back to that moment in time that you celebrated on your first visit.  This built-in sentimentality aspect of travel can make returning to a destination that much more meaningful.  A wedding or engagement abroad is special in and of itself, returning for a landmark anniversary can help you reflect on the time that has passed and remember where it all started.