Belize does require a visa, but for many countries, an automatic 30-day visa is applied on entry.  This includes nationals of the USA, Canada, the UK, Central American and Caribbean countries, or the European Union.  If you do not qualify for an automatic visa, you'll need to visit the Belize Embassy or Consulate in your country of residence to apply, before you travel.
Pro tip- remember to check the expiration date on your passport before travel!  It must not expire within 3 months of your travel dates or it will not be valid to enter into Belize.  Children under 18 need all of the same documentation as adults, with the addition of a notarized letter of consent to travel if they will be accompanied by only one parent or guardian.
All non-residents of Belize must also have a return ticket.  On your flight to Belize, the embarkation forms for immigration and the customs form will be distributed.  Each person must have an embarkation form and each family must have a customs form.  Make sure to keep the attached disembarkation form safe inside your passport for when you leave Belize.
After you make your way across the tarmac at the PGIA and enter the Immigrations and Customs area of the airport, you'll present the materials described above.  The Immigrations officer will also ask you where you will be staying in Belize or the name of your hotel.  Continue through, collect any checked luggage and proceed to customs.  The Customs Officials inspect luggage and collect any necessary tax or import duty.  If you have no items to declare or have purchased duty-free things, you can proceed through the "Nothing to Declare" line at customs.
There are restrictions on the quantity of cash, liquor, and cigarettes that may be brought into Belize per person.  Of particular note is the restriction of bringing drones into Belize, these must have a special permit from the Civil Aviation Department or are otherwise not allowed to be brought into the country.
If you are traveling with a pet, they need their own documentation.  The Belize Agricultural Health Authority (BAHA) must approve an import permit and your local vet needs to provide a veterinary certificate.  It's also worth checking with the hotel where you plan to stay in Belize, to see if pets are allowed as many have a no-pets policy.
After going through Immigration and Customs, you can then head out of the airport.  If you are catching a local hopper flight to Ambergris Caye, you will re-enter at the terminal and go through security to board your connecting flight.  If you are taking ground transportation to your next destination, the Airport Taxi Union will have cabs waiting just outside the arrivals gate.
When departing Belize, there is an exit fee for all visitors.  When traveling via the International Airport, this airport departure tax may be included in your airfare, so it is worth checking to see whether it has already been paid along with your airfare.  If not, it is payable in cash at the International Airport. The total exit fee is US $55.50.  There is also a $0.75 security fee for domestic security screening. When departing Belize through the Guatemala or Mexico border, the border fee to be paid on departure is US $20.00.
For more information on all the details of travel logistics to Belize, make sure to check out our Traveling to Belize guide.  Included in the guide is detailed information with maps and how to sign up for our arrival transportation from San Pedro Town to your Sandy Point Resort.  Click below to learn more!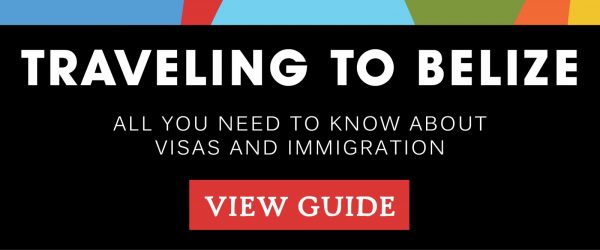 Photo courtesy: Maya Island Air