Thanks to the swift action, bravery and human compassion of the Friends for Conservation and Development- FCD Belize, the Belize Forest Department and the Belize Wildlife & Referral Clinic, little "Chiqui" was saved in June of 2016 and is now thriving.  There were many conservation heroes along the way to this little cub's survivor story, with the Belize Zoo providing a permanent home.
The Belize Zoo is dubbed "The Best Little Zoo in the World," and for good reason.  Located 30 miles West of Belize City, it is certainly on our 'Must-See' list when visiting Belize.  The zoo was founded by Sharon Matola in 1983, after her work with a movie crew as the animal trainer.  Left with a handful of native creatures, she knew it was not an option to simply return them back to the wild.  So, instead, she placed a hand-painted sign on the highway stating "Zoo!" and began educating Belizeans about the very creatures they share their country with.  Those former movie stars became well-loved ambassadors for their species, and today, the zoo is a thriving attraction with more than 170 animals of 45 species on exhibit.
What's so special about this zoo is that all of the animals are native to Belize.  You will find no polar bears, no zebras, no lions.  This is hardly a negative.  Belize enjoys high biodiversity with many of its critters being nocturnal, very shy, or both.  Thus, it is rare to glimpse them in the wild.  Enter, the Belize Zoo.  It offers tourists and Belizeans alike up-close-and-personal encounters with the nation's fascinating creatures.  Even more special, is the fact that every animal is rescued in some way; whether an orphan, injured beyond survival in the wild, a former pet or born in the zoo.  None of these animals would be able to survive in the wild, so instead, they are given a second chance and become important conservation ambassadors for their species.  These animals allow the children of Belize to learn, by example, just how and why we should preserve our natural heritage.  It is not unusual to see a gaggle of Belizean students, all in their tidy school uniforms, avidly interacting with the keepers as they sing songs to the various animals, including Junior the Jaguar, a national favorite.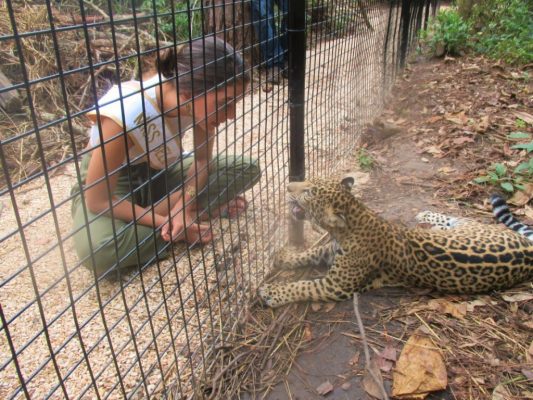 Now, the Belize Zoo has made history again by expanding its Jaguar exhibit to make a home for little Chiqui.  The official opening of her exhibit was 16 November 2016 and now animal lovers of all ages can see her in person at the zoo.  School children, proud supporters of the Belize Zoo, conservationists and more all came together to be a part of the unveiling of Chiqui's new exhibit.  Sharon herself opened the day with a rousing rendition of "Chiqui's Song," accompanied by the adorable KLIC pre-schoolers of Belmopan.  This new exhibit unveiling was truly a celebration of collaboration across government agencies, NGO's and private support for the conservation of Belize's wildlife.  Representatives from the Wildlife Clinic, FCD, the Belize Tourism Board and the Belize Forestry Department, along with Miss Belize Universe were all honored guests. Through Chiqui's presence at the zoo, she will raise awareness of not only the magnificent jaguar but also her "hometown," the Chiquibul National Park and its significant importance for many of Belize's incredible wildlife species and forests.
We can't wait to see what comes next for the Belize Zoo.  To stay up-to-date on their goings-on, follow their Facebook page, and make sure to visit them on your next trip to Belize.  Sandy Point Resort's proud partner, Tuff E' Nuff Tours, offers day trips to the mainland where a visit to the zoo can be paired with Mayan monuments, cave tubing and more.  The truly captivating animals of the Belize Zoo give us all a second chance to do better, be better.  We live in a beautiful world.  Indeed.