The vivid blues of the sea cover Sight, sand between your toes- Touch, the many languages of Belize- Sound and those lovely tropical blooms- Smell.  Which leaves us with Taste.  This tiny melting pot of Belize offers a riot of flavors to try.  Whether it's your first visit or one of many returns, tasting your way through Belize will certainly leave you hungry for more.  To make it easy and to ensure that you don't miss out on some of Belize's specialties, we've curated our top 10 food and drinks.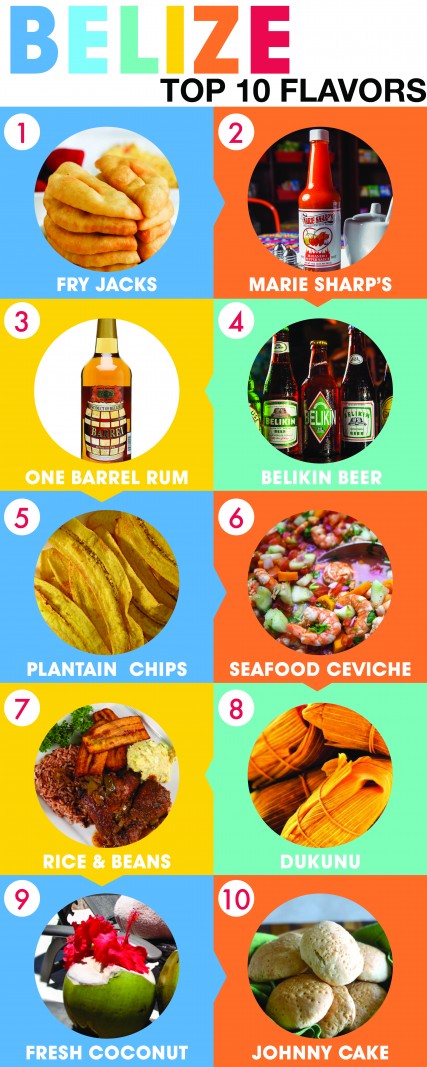 Fry Jacks
This is the ultimate Belizean breakfast food.  Flour dough is fried to golden perfection and served along with beans, eggs, and breakfast meat.  While traditionally used as a savory dish, add some honey and fruit and you have the Belizean answer to a doughnut.
Marie Sharps Hot Sauce
A true Belizean product, this hot sauce packs a punch, yes, but it also serves up a robust flavor. The original sauce has a base of carrots, but there are green cactus, grapefruit, orange, and tamarind versions, you really do need to try them all.  Marie Sharp's secret recipe is sold widely throughout Belize and is also largely exported.  Look for it in your home supermarket!
One Barrel Rum
A sugar cane rum that pairs well with fresh juice, ginger ale or Coca Cola.  Locally made and proudly served at establishments throughout Belize, this classic gold rum is a must-try.
Belikin Beer
The official beer of Belize!  Locally brewed and bottled, Belikin offers a Regular, Stout and Premium option, along with occasional seasonal specials such as Sorrel or Chocolate Stout.  The labeling is similar to all of the varieties and the distinguisher is the cap.  No twist-off's here!  Green for regular beer, blue for stout.  Once the tops are off, your best bet is to hold them up to the light to see which is darker, a move you're likely to see bartenders make before serving.
Plantain Chips
Cousin to the banana, Plantains can be cooked in many different styles.  A favorite in Belize is to fry it while still green and sliced thinly with salt, similar to potato chips.  Trade up your Pringles for Plantain Chips, sold widely at most shops.
Fresh Seafood Ceviche
Whether it is made with lobster, shrimp or conch, you really can't go wrong here.  A seasonal mix of fresh seafood, tomatoes, onions, lime, and cilantro. Lobster/conch/shrimp/fish (should we just pick one or put them in a group?  Or list a specific dish, like Ceviche, which can be made with any of them, depending on what is in season?)
Rice & Beans OR Beans & Rice with Stewed Chicken
Wait, what?  Did we just write the same thing twice?  Nope!  Though they share common ingredients, Rice & Beans and Beans & Rice are two different dishes and always encourage a friendly debate on which is the favorite.  Rice & Beans are cooked together in the same pot and flavored with coconut milk.  Beans and Rice are cooked separately and the beans are stewed with onions and green peppers.  Either option pairs well with stewed chicken, the secret ingredient being the red recado paste used for flavor and color.  Try them both and decide for yourself which you prefer.
Dukunu
It's been ten years since I first tried Dukunu in a tiny restaurant off of a side street of Belize City and I still haven't tired of it.  Made by grating fresh green corn and cooking it down with seasoning and coconut milk, the mixture is then stuffed and rolled into the corn husks and boiled.  The result is a dense and flavorful little package that can be smothered in stewed beans or simply eaten plain right out of its wrapper.  It's Belizean street food at its best and isn't remiss on a fine dining menu.  Cocoblanca Restaurant serves it up piping hot
Fresh Coconut
Though it's hardly unique to Belize, Coconut is part of the soul of so many dishes and can stand alone quite nicely, it had to make the list.  The image of a beach, a swimsuit and a green coconut in hand is ubiquitous to a tropical vacation.  You're sure to enjoy it in many preparations during your stay.
Johnny Cake
This bread product is a traveling biscuit and it's said that the name comes from "journey" cake, as they hold up well.  Often sliced through the middle and stuffed with meat, cheese or beans, Johnny Cakes are the perfect pack lunch for adventurers on the go.
Bonus! Coconut Tart
In an uncharacteristic move, I nearly concluded this feast without dessert.  Let's remedy that, shall we?  There really is no limit to the wonderful desserts traditional to Belize.  An island favorite is Coconut Tarts.  They are small, sweet and the perfect afternoon snack.
Have you tried them all?  What you would add to this list?  Join the conversation and tell us your favorites in the comments!