Our properties on the northern part of Ambergris Caye have hidden little jewels in the form of fun and lively bars that everyone can enjoy.  The local flavors shine in our drinks but it's the friendly and entertaining bar tenders that really stand out.  Let's get started!  Grab your D.D. and a golf cart rental (safety first!) and follow us north.
Our first stop is at Mile 3.2, Coco Beach Resort.  Situated in between the two pools sits Cocoblanca Pool Bar.  For registered guests, there is a heated swim-up bar where you can order your choice of refreshments.  Outside guests can enjoy the varied seating options in our shady open-air bar area, the highlight being two horseshoe-shaped love seats, recessed down at pool level.  Our favorite drink: the Mangorita!
Just a short stroll down the beach is Belizean Shores' Brooklynn Bros Bar & Bites by the Pool.  The same pool-use rules as above work here as well.  This little bar packs a big punch and has, arguably, one of the best views of the Caribbean Sea.  Our favorite drink: local beer.
The Boox Balaam Beach Bar is conveniently located at the dock with an entrance right into the Caribbean Sea.  From the first local Rum Punch on arrival as we welcome you to X'tan Ha Resort, you'll love all of the tropical libations available.  You can play hard with the floating trampoline and water volleyball court, just a splash away from the bar. Our favorite drink: Coconut Sunrise!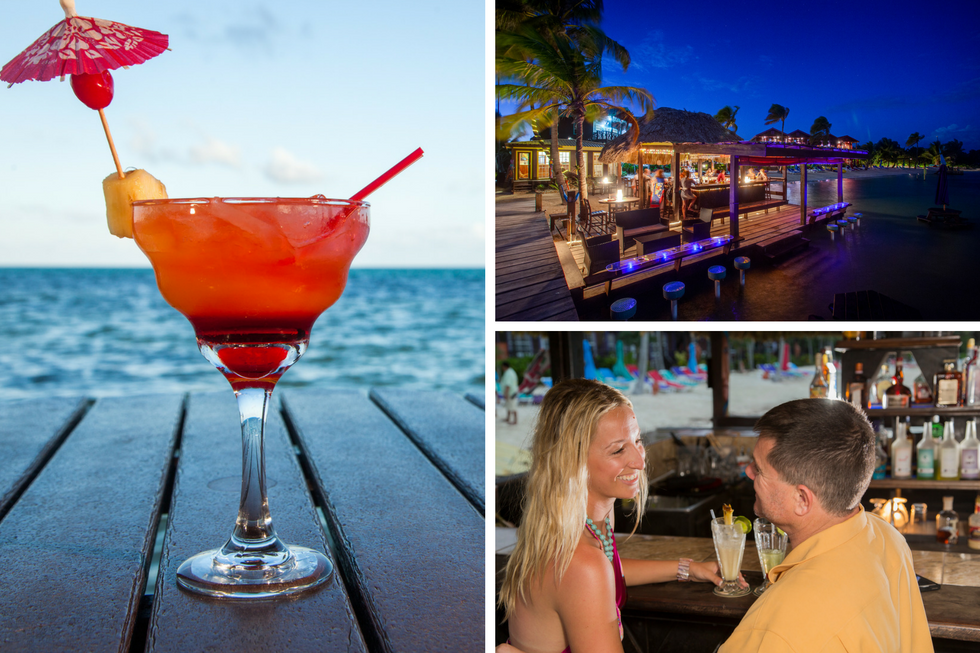 Drink recipes! Lest we leave you thirsty, flip through our archives for a pair of standout beverages.  First up is the Bailey's Banana Colada, courtesy of Boox Balaam Beach Bar.  For the full recipe and some tropical inspiration, go here.  If you're in the mood for something different, click on through for Cococabana's recipe for a Painkiller. What was your favorite drink, and at which Sandy Point bar?  Tell us in the comments!