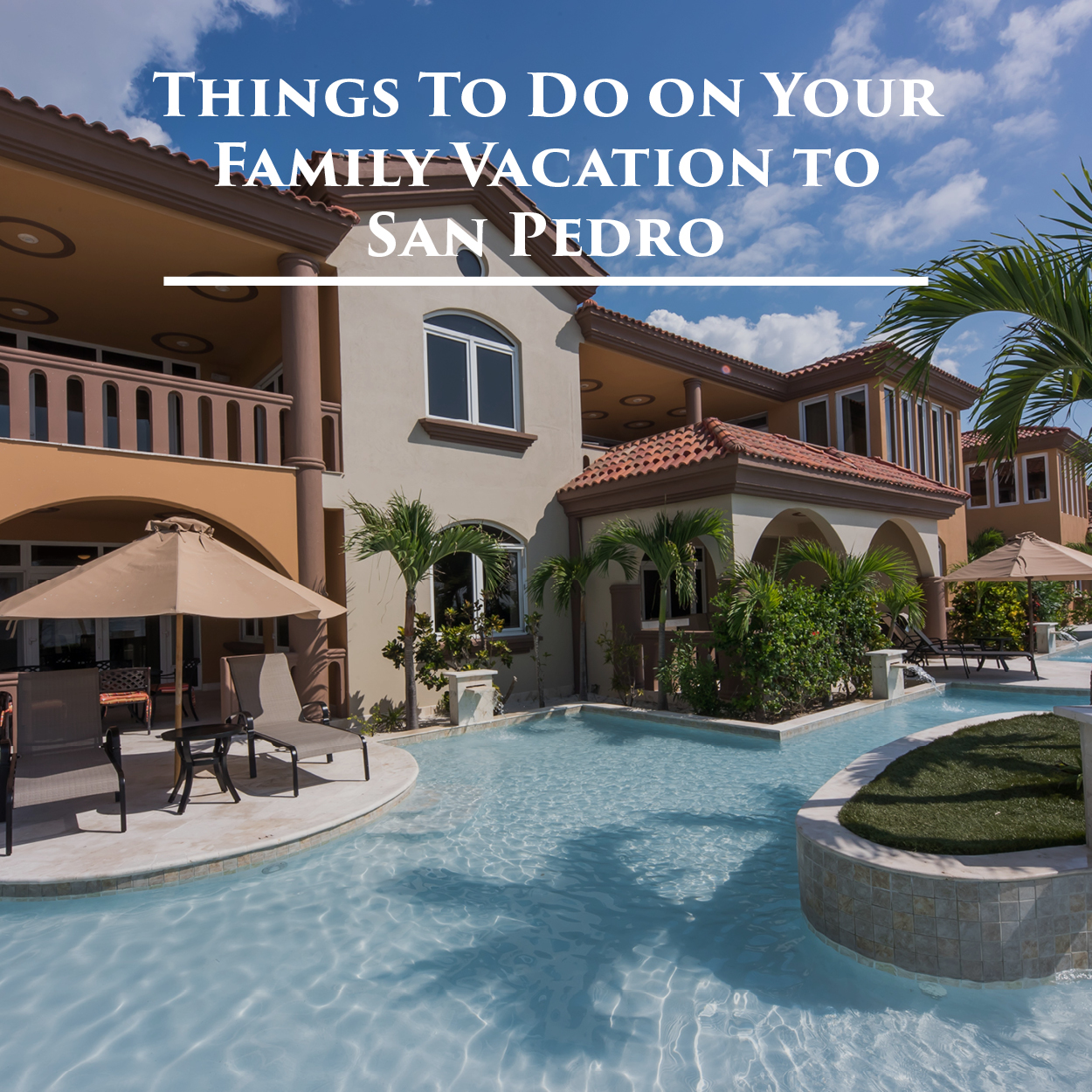 Things To Do on Your Family Vacation to San Pedro
A family vacation is a time for everyone to unwind and spend some quality time together.  Each travel destination comes with things you shouldn't miss or experiences you can only experience in that corner of the world.  Ambergris Caye in Belize is no different.  If anything, the choices of how to spend your vacation time in San Pedro Town can be overwhelming in volume and diversity.  To help you sort out the best of the best, we've put together a bucket list of activities the whole family can enjoy.
Snorkel Hol Chan and Shark Ray Alley.  The most popular of the local snorkeling sites, Hol Chan Marine Reserve, is a protected area where you can see a showcase of the best the Belize Barrier Reef has to offer.  The guided tour follows the natural cut in the reef and your guide will point out an abundance of coral, fish, and marine creatures.  Keep a sharp eye out for sea turtles feeding in the shallow grass beds!  After the tranquility of snorkeling, up your adrenaline by swimming with nurse sharks and stingrays at Shark Ray Alley.  It's an experience you won't soon forget!
There is more to Belize than the islands! Visit the mainland and explore the verdant jungle, native wildlife, and ancient history.  No better way to do that, than to schedule a full day trip to explore the Maya Monument of Xunantunich with a bonus stop at the Belize Zoo.  Climb to the top of El Castillo and enjoy vistas all the way into neighboring Guatemala.  Knowledgeable guides share the history of the Mayan site.  At the Belize Zoo, get up close and personal with Belize's most exotic wildlife including the mighty jaguar, the quirky tapir, and the colorful toucan.
Explore San Pedro Town.  Golf cart rentals are available on-site for your convenience.  The road into San Pedro Town is paved and takes about 15 minutes.  There is a toll bridge at the entrance to town that all motor vehicles, including golf carts, must pay.  Once in town, the sky's the limit.  Treat yourself to ice cream, let the kids play at the playground at Central Park, or do some shopping.  There are several gift shops throughout downtown and there is an artisans market on Back Street that offers locally made souvenirs.  Restaurants abound, you are sure to find one that everyone can agree on.  For a map of the island, click here.
Family reading time.  Granted, this can be done anywhere.  But there's something special about taking time to read while vacationing that just feels indulgent.  The last thing any of us want is to return from vacation feeling like we need a vacation.  Whether it's a magazine, a real book (remember those?) or storybooks for the littlest in tow, carve out some leisurely time to read.  Pick your favorite spot: in a hammock, on your private veranda or on your king-size bed.
Discover Secret Beach.  The cat's out of the bag, it's not really a secret anymore.  This popular beach is located on the lee side of the island and as such, almost always has calm and sandy water to enjoy.  A string of restaurants and fun beach offerings are available but make sure to bring your essentials like water and sunscreen with you.  The drive via golf cart takes about a half-hour, be sure to plan your trip for daylight hours as the road is not lit.
Get your Vitamin Sea with a day sail on a catamaran.  Spend your day on the waves with the whole family.  Sails can be combined with snorkeling, sea fishing, beach barbeque or all three.  Make family memories against the Caribbean backdrop.  Sailing trips include the needed gear for snorkeling or fishing, water, soda, fresh ceviche, beer, and rum punch.
Depending on the length of your stay, you might be able to tick these all off on one trip.  It's not a great tragedy if you don't get to everything, however.  This list is just to get you started.  Belize is the type of place that draws you in and you find yourself returning again and again.  With a luxury villa rental at Belizean Cove Estates, you have the comfort of home to enjoy after your days of adventure and fun on the island.  Contact us to start planning your next visit today!