The very first protected area for wildlife in Belize, at Half-Moon Caye, was designated in 1928 as a crown reserve for the protection of the Red-footed Booby Bird.  Later, that protection status would be made a Natural Monument managed by the Belize Audubon Society and spread to include not only the island where the bird's nest, but the surrounding marine ecosystems as well.  Divers heading out to dive the Blue Hole typically lunch at Half-Moon Caye and enjoy this unique place, both above and below the water.
Belize is unique in that 26% of our territories are under some type of protected status with up to 60% of our forest cover intact.  In the United States, for example, 14% of the land is protected.  Protection of our land in Belize began in the early 1920's when Forest Reserves were established under the Forest Act.  When independence from England was achieved in 1981, the more defined practice of Protected Areas Management was implemented via the Wildlife Protection Act and the National Parks System Act.  As defined by the International Union for the Conservation of Nature (IUCN), a protected area is "an area of land and/or sea especially dedicated to the protection and maintenance of biological diversity, and of natural and associated cultural resources, and managed through legal or other effective means."  There are seven types of protected areas in Belize, each with their own guidelines for how they may be used.  These are Nature Reserve, National Park, Natural Monument, Wildlife Sanctuary, Marine Reserve, Forest Reserve, and Archaeological Reserves.  Three different government agencies are responsible for the management of Belize's protected areas; the Archaeology Department, the Fisheries Department, and the Forestry Department.  The latter does allow the co-management of some of these protected areas, the Belize Audubon Society is one example.
In 1996, the Protected Areas Conservation Trust (PACT) was established to ensure the proper financial needs of our protected areas.  Upon departure from Belize, all non-nationals pay a departure tax, with a portion of these funds going to PACT along with a 20% commission of all cruise ship passenger fees. PACT annually awards grants to non-government organizations and community-based organizations along with government agencies that work in conservation, protected area management and the management of natural resources.  The various protected areas are important for Belize not only for conservation but also for our tourism industry.  The Belize Barrier Reef alone attracts thousands of visitors annually, many that come specifically for diving or snorkeling in our pristine underwater backyard.  Managed by the Fisheries Department, a Marine Reserve is defined by the IUCN as "an area reserved as a nature conservation reserve for the protection, research, recreation, education and controlled extraction in relation to marine and freshwater species and their habitats."
Our northern resorts, Costa Blu Adults Only Beach Resort and X'tan Ha Resort, have the luxury of being within mere minutes of the popular diving and snorkeling site, Mexico Rocks.  In 2015, this area on the northern part of Ambergris Caye was added under the protection status of the Hol Chan Marine Reserve, the majority of which is located about 4 miles south of San Pedro.  The oldest Marine Reserve, Hol Chan is named for the Mayan words meaning "little channel."  With the exception of Mexico Rocks area, the reserve is located south of Ambergris Caye, with the snorkeling highlight site on a cut in the reef which is about 23 yards wide and 30 feet deep.  Hol Chan is a very popular snorkeling site and is also often utilized for diving certification courses as it is fairly shallow yet offers a multitude of marine life.  The addition of Mexico Rocks to this protected status means that the large boulder coral formations unique to this area and found only at one other site in Belize, far to the south at Glover's Reef, will be protected far into the future.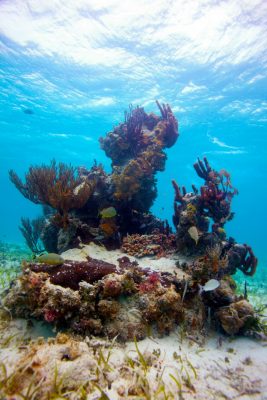 Bacalar Chico Marine Reserve is found at the north end of the 25-mile long Ambergris Caye and has a counterpart on land in the Bacalar Chico National Park. This protected area has as its Northern border the country of Mexico, separated by a small channel said to have been dug by the ancient Maya people.  National Parks, according to the IUCN is "an area reserved for the protection of natural and scenic values of national significance for the benefit and enjoyment of the general public."
A Natural Monument is defined by the IUCN as "an area reserved for the protection and preservation of nationally significant natural features and unique characteristics for education, research, and public appreciation."  The most notable of these, is, of course, Belize's Blue Hole, one of the most iconic images and a very sought-after diving site.  As mentioned at the very beginning of this post, Half Moon Caye is another Natural Monument that most divers are familiar with and which is important for both its bird and marine inhabitants.
Organizations such as the Belize Audubon Society and Oceana play key roles in Belize of educating the public about best practices and Leave No Trace ethics.  As part of the diving community, it is of interest to all of us to care about our oceans and reef environments.  Divers can join PADI's Project Aware, which empowers divers to make a lasting positive change for our oceans, one dive at a time.  Across all of our Sandy Point Resorts, we host regular clean-up efforts along our shoreline for trash that washes in with the tide, always collect any garbage found while diving and also follow all regulations within the Marine Reserves that we frequent on our guided tours.  To that end, the Government of Belize just released a statement in March of 2018, pledging to phase out single-use plastic bags, Styrofoam and plastic food utensils within the next year.  This is encouraging and a vital step in reducing plastic waste that affects our oceans.  It is our hope that through the combined efforts of government legislation, individuals and organizations our magnificent reef will remain intact long into the future.