By Air
The island's only airstrip is located in the heart of San Pedro Town and a local flight is a convenient way to travel to Ambergris Caye.  There are currently two airlines offering this service, Maya Island Air and Tropic Air.  Both operate out of the PGIA as well as other locations throughout Belize, providing service to San Pedro.  The daily schedule has flights leaving PGIA hourly beginning at 7:30am with the last flight of the day leaving at 8:30pm.
Pros:
Taking just 20 minutes, a flight from PGIA to San Pedro is definitely the quickest option.
The flight flies low over Belize City and then the barrier reef.  Keen eyes can sometimes see manatees swimming in the shallows!
Cons:
Round trip flights start at approximately US $167.50
Small plane. This isn't necessarily a con unless you are averse to flying in general.  The small planes leave little room to move around.
By Sea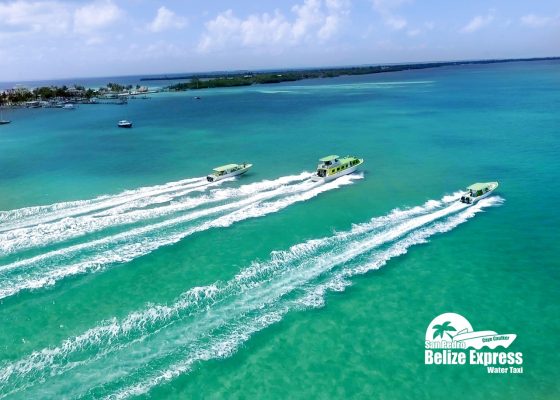 There are two ferry companies located in Belize City that offer daily service to Ambergris Caye; the San Pedro Belize Express and Ocean Ferry Belize.  Both water taxis are within a couple of blocks of each other and offer regular daily runs to and from Ambergris Caye.  A valid I.D., such as a passport, is required when purchasing water taxi tickets and when boarding the vessel. The Ocean Ferry docks in San Pedro at the Caribena Pier by Cholos Bar. The San Pedro Belize Express docks at the municipal pier in San Pedro Town.
Pros:
Cost-effective. Round trip tickets are a fraction of that of a flight.
As the boat pulls away from Belize City, you get a great vantage of the shoreline, which slowly blends to every color of blue you can imagine as you get further out on the sea.
Cons:
Longer travel time. The boat ride itself is 90 minutes, but you must also factor in travel from the PGIA via taxi to the water taxi dock in Belize City, which is about 25 minutes.
Boats are often filled near capacity. This leaves little personal space.
Variety is the spice of life.  Both transport options come with ups and downs, but you are sure to find just the right choice for your vacation.  For more information on getting around Ambergris Caye, maps of Belize and which resorts offer complimentary transportation from town to your Sandy Point Resort, click below. This guide is a free resource that will answer all of your travel questions, and maybe some that you haven't considered yet.