Whether you are planning an intimate ceremony or a large beach reception, the Sandy Point Weddings team has a host of options to fit every couple. Choose from our 5 resorts and 7 reception venues to find the perfect match for your dream destination wedding in Belize.
Getting married on Ambergris Caye, Belize is easy with the help of an excellent wedding planner.  Our dedicated wedding staff will lead you through the entire planning process, making it pain-free while providing all the support you need for the big day.  To guarantee our full attention, we only host one wedding per day at each resort, so you can be assured that every last detail will be taken care of.  We treat you like royalty from the beginning planning stages through the ceremony, reception, and even your honeymoon.  With 5 resorts, it's easier than ever to choose your perfect wedding venue.  Our onsite Event and Wedding Planner is happy to arrange it all for you: Photographer, Videographer, Catering, Décor, Wedding Officiator, Cake, Entertainment, Spa, Activities and much more. Give us the honor of taking charge of your special day as we promise to give you memories that will last a lifetime.
Marriages in Belize are legal all over the world, and couples are required to be in-country three business days prior to the wedding to receive a marriage license.  This can be expedited if required, for an added fee.  The wedding planner will handle all the paper work to make it a hassle-free experience.  Belize does not require a blood test, and for those, over 18 years of age no parental consent is needed.  You will need to have two witnesses for the ceremony and the marriage must be registered at the Belize Registry Department afterward.  Your planner will take care of submitting all paperwork.
Our Reception Venues
Seaview Terrace
Enjoy an elegant outdoor reception under the stars with your invited guests. The Sea View Terrace is an upper floor, open space located above the reception area at Coco Beach Resort and is also available for weddings at Belizean Cove Estates.  The Maximum Capacity is 35 Guests for a seated dinner with dance floor, and 60 guests if no dance floor.  The set-up fee includes:
Round or rectangle tables and banquet chairs with white linen along with matching table runner and sashes, string lights with or without lanterns, private bar and waiters.
Grand Palapa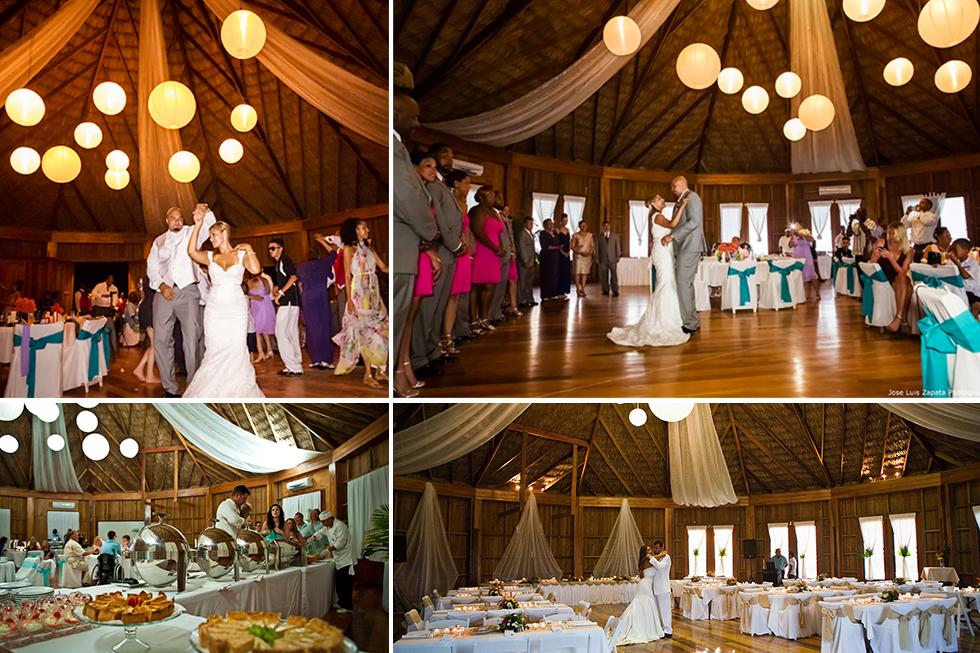 The Grand Palapa is right across from Belizean Shores Resort and is available for weddings at Belizean Shores Resort, Belizean Cove Estates and Coco Beach Resort. The 2,000 square foot upper floor of the round and thatch-roofed building is air conditioned and has His & Her restrooms on the lower floor.  The noise curfew is midnight with a capacity of up to 70 guests for the reception. The Rental Fee includes all tables, chairs, linen, standard décor with draping, lanterns and bar set up fee.
Beach Reception
All Sandy Point Resorts are beach front allowing for beautiful Beach Weddings and Receptions.  The noise curfew is 9:30pm and has a reception capacity of 30-75 guests depending on the property.
A set-up fee will be applied for your reception on the beach and will be determined based on the number of guests and the requested set up.  Your Set up fee can include – choice of White tents with standard draping, twinkle lights, lanterns, curtains OR String lights with lanterns OR Bamboo Reception Arbor with white draping. Round or rectangle banquet tables with white linen, banquet folding chairs with chair covers and sashes, bar set up fee, bamboo tiki torches, setup with twinkle lights or string lights for dancing.
Our Resorts
Belizean Cove Estates - Luxury Beachfront Villas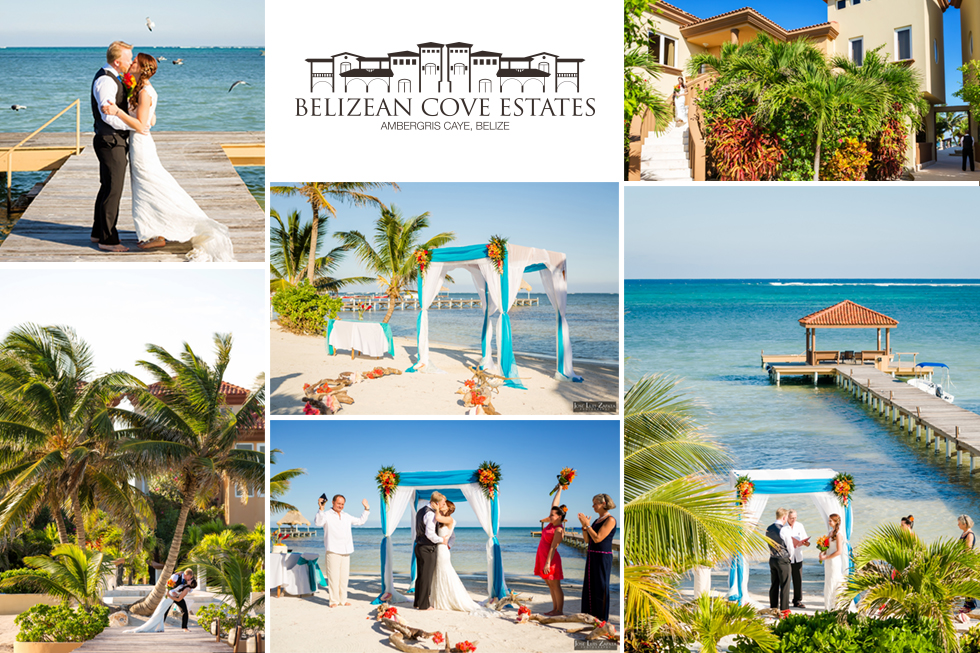 Capacity- 30 guests
Ceremony - Beachfront
Reception - Beach, The Sea View Terrace at Coco Beach or The Grand Palapa at Belizean Shores
Catering- Cocoblanca Restaurant
The perfect fit for intimate weddings in a luxury villa setting.  Belizean Cove Estates offers a collection of secluded, luxurious beachfront villas each elegantly decorated with its own unique style and décor located 3 miles north of San Pedro Town. Privacy and spacious luxury are at the forefront, with the comfort and convenience of front desk services during the day. Whether you're are looking for a private beachfront ceremony for two or an extravagant affair with family and friends, Belizean Cove Estates offers an elegant setting for your special day.
Read More
Belizean Shores Resort- Feel at Home
Capacity- 50 guests
Ceremony - Beach in between the palm trees
Reception Venue – The Beach and The Grand Palapa
Catering- The Island Tavern
With a true island feel and family-friendly setting, Belizean Shores resorts let you feel at home while enjoying the peaceful and beautiful landscapes of Ambergris Caye, Belize. The swaying coconut palms create a natural canopy for your ceremony with the Caribbean Sea just steps away.  This resort is located 3.5 miles North of San Pedro Town and combines the quiet and privacy of the beach with easy access to town via water taxi or golf cart rental.  Relax in the privacy of your room or explore all the fun of our amenities without worrying about anything but your own delight.  We bring together all aspects of the body, mind, and soul to allow our guests that homey experience.
Read More
Coco Beach Resort- Laidback Luxury
Capacity- 65 guests
Ceremony - Beachfront
Reception Venues – The Sea View Terrace, The Beachfront or The Grand Palapa.
Catering- Cocoblanca Restaurant
Coco Beach Resort is located 3.2 miles north on the island of Ambergris Caye; an island rated as the #1 Island in the World in 2013 & 2014 by reviewers on TripAdvisor. The resort is a secluded yet conveniently located destination for intimate weddings for just the two of you or for an extravagant celebration with your family and friends. Coco Beach Resort offers a unique vibe of laid-back luxury with a variety of accommodation choices for your wedding guests to choose from.  Options are endless for your destination wedding in Belize, from a variety of wedding packages and venues to choose from, beautiful tropical and elegant décor, entertainment, food choices, bar selections; our team is readily available to assist you in every way possible.
Read More
Costa Blu Dive & Beach Resort- Dive Into Belize
Capacity- 75 guests
Ceremony – Beachfront
Reception – Beachfront
Catering- Blu Restaurant
Offering the most expansive beach and grounds of all of our resorts, Costa Blu Dive and Beach Resort is located 6.5 miles north of San Pedro Town on the island of Ambergris Caye, Belize.  The natural landscaping and vibrant colors create a tropical backdrop for your wedding celebration.  With our PADI 5-Star Dive Shop on site, wed your love for each other with your love for the sea.  Costa Blu Dive and Beach Resort is a unique property that combines pristine Caribbean waters, natural beauty, and exceptional personal service to create an idyllic tropical island retreat.
Read More
X'tan Ha Resort- Waterfront Paradise
Capacity- 50 guests
Ceremony - Beachfront
Reception - Beachfront
Catering - Temple Run Tavern
Secluded from the lively town and other resorts, X'tan Ha is the ideal choice for those desiring to say "I Do" to the one they love, in the ambiance of a beach wedding ceremony with the panoramic view of the turquoise Caribbean Sea, amidst coconut palms and beautiful tropical flowers along a sun-kissed shoreline. A waterfront paradise resort with a Mayan heritage able to immerse our visitors into new and extraordinary colors, flavors and experiences. We take care of every little detail in order to create extraordinary memories for our clients. Whether you're looking for a private, intimate, beachfront wedding ceremony or an extravagant affair, our dedicated onsite wedding coordinator, and creative team will help you plan and coordinate every detail of your beach wedding and turn your dreams into reality.
Read More
We are committed to providing excellence in all aspects of your destination wedding.  We ensure that your special day has our full attention, as we book a limited number of weddings per year.  Tell us more about yourselves and what you envision your wedding to be.  To get started, click here to talk with our Wedding Planner.
For more inspiration, visit us on Instagram where we share our favorite glimpses into weddings in paradise.
Special thanks to all of our photographers for capturing these unforgettable moments, José Luis Zapata, Leonardo Melendez Photography, Olivera Rusu, Conch Creative & Ben Kim.